The sixth iteration of the Third Sector Trends Survey ran across England and Wales this summer producing a nationally representative sample with 6,070 responses.
We'll be looking at the structure, purpose, energy, finances, relationships and impact of the voluntary and community sector in the coming months. But to begin with, a briefing report has been written to provide some tasters on things that will be explored later in greater depth.
Big representative studies that are regularly repeated help to show the effect of major events such as the Coronavirus pandemic or the current cost-of-living crisis. And often the findings can be surprising.
As can be seen in the chart below, larger charities have come out from the pandemic quite well financially but smaller ones were more likely to struggle.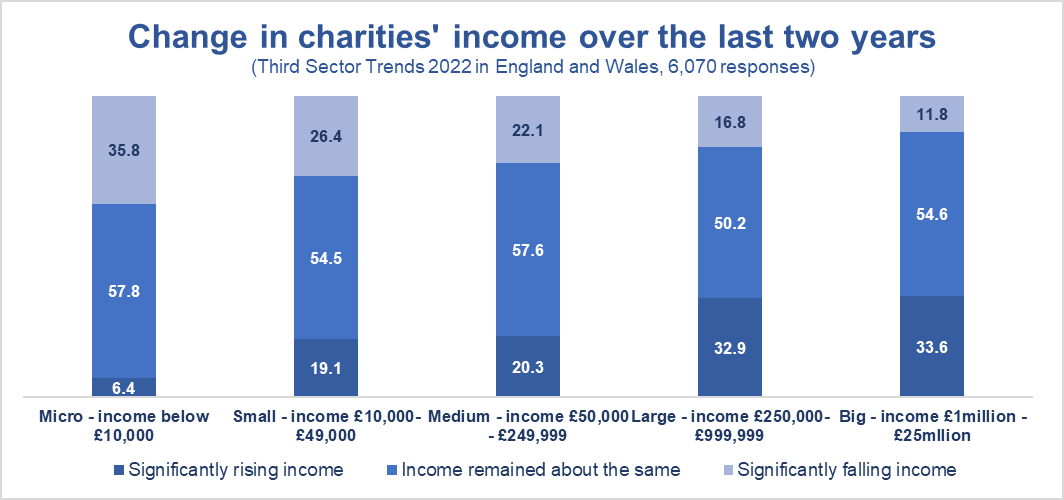 Early headline findings about the financial confidence of the voluntary sector can be compared with previous rounds of the study. Compared with 2019, it looks like charity leaders' confidence has bounced back. When we did an interim study in the depths of the Covid crisis (June 2020) we found that only 13 per cent of organisations thought that income would rise in the next two years.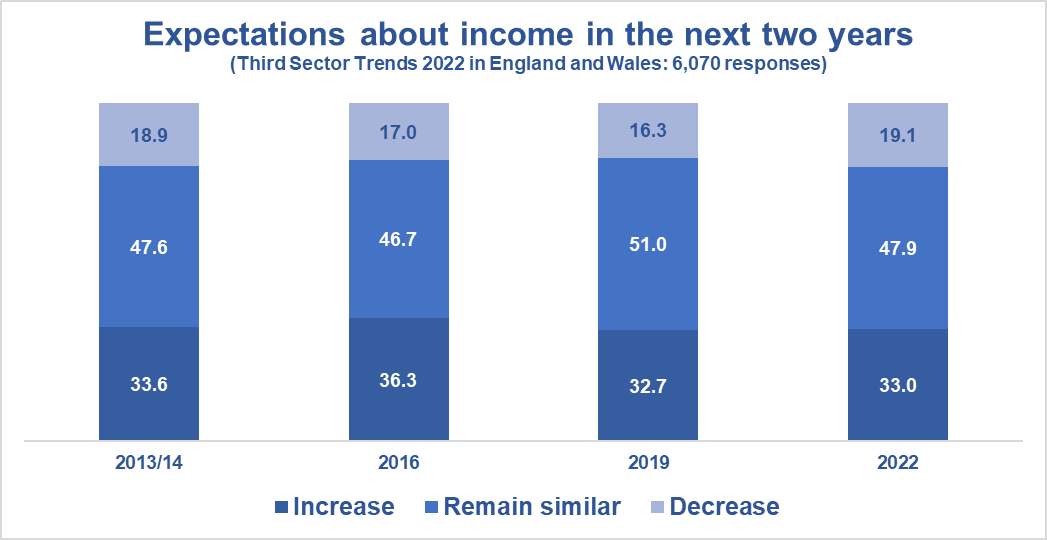 The complete analysis of the data from Third Sector Trends will take many months. Results will be published in regular briefings and reports. But you can find a briefing on the early headline findings here.
We asked people who had taken part in the survey, if they'd like to tell us how things are going, now that the results had started to come out. Here are some examples (some quotations have been edited to preserve anonymity using [square] brackets). If you have read this page once before, new stories from charities appear at the top:
"[We] operate within and around the Carlisle area, we deal solely with young adults between the ages of 16 and 25 years of age. Our main focus being the prevention of homelessness with that age group. Like many cities and towns up and down the country, [our medium sized city] does have a problem with suitable accommodation for many of the underprivileged groups or individuals. and there is very little support in the area, or likely to be. We have noticed the need in our client base to extend the age of support and that the difficulties are becoming more complex with the cost-of-living issues, and the impact of the COVID pandemic on the well-being of a number of people. What we see is more difficulties being presented but less face-to-face, so we have adapted to using facebook and the telephone to resolve a number of issues. The lack of face-to-face itself is a complex issue in that, as a supporting agency you are never quite sure if people don't want to come or that their social anxiety is hitting new highs. With our client group I believe it is the latter. And to counter this, we offer counselling."
"Our work is evolving from mainly working to resolve social isolation and improve people's wellbeing to now needing to focus on how we can help people focus on their core needs such as heating and eating. We are working to figure out how we can best address these issues – but we may have issues around our capacity and are concerned for the wellbeing of our staff and volunteers who are working with these issues front line."
"We are working in challenging environments which are becoming even more complex with the cost-of-living crises when we have not yet fully come out of the Covid-19 Pandemic. There is a reduction of funding available for groups to apply for or not enough core funding to support organisations who are struggling to provide much needed local services. Many of our projects are time expiring and there is not enough replacement funding available to keep much of the good working going."
"We are busier than ever now and it's a real challenge"
"We're doing pretty well- we're doing lots of training for new members, which is good!"
"We are doing well – the staff team is excellent. That said, we have a fairly substantial gap in our budget (largely for salaries) this year – we do have funding applications in, in progress and planned, and it'll be OK… but it's a constant challenge! We also haven't yet properly costed the impact of 'cost-of-living' – this will have an effect on staff, too."
"Covid dealt a hard blow to membership and income generation, and the projects that we could undertake. We are recovering."
"We are a mental health charity working with people in a deprived part of the country. We deliver a range of services aimed at improving mental health, preventing crisis and developing resilience. We face a challenging funding environment with competition for funding higher than ever and rising costs. We face a recruitment crisis like many places but it is enhanced by our inability to pay market rates. The NHS trusts instead of working alongside us and investing in our skills and community knowledge seem intent on pitting themselves as our competitors in a bid to justify their own income streams."
"We have just re-opened after the pandemic. We are on a reduced timetable due to loss of many volunteers. We are trying to gauge the demand for our services after a two-and-a-half year closure."
"Housing development in this area of the South West has increased phenomenally. This has pushed agricultural land prices up and put land purchase beyond our reach. We are an environmental organisation and are dismayed at the Government's war on nature. The removal of European protections for wildlife and our environment is depressing for our members."
"We have now stabilized our number of third age member numbers which are now slowly increasing. There is still some concern over Covid issues from some."
"Stable and becoming financially sustainable."
"With a lease responsibility for the building we are experiencing difficulties with the cost of energy and heating."
"The operating environment right now is far more challenging than at any time during the pandemic. Statutory thresholds are so high that demand is escalating to levels that are not possible to respond to in the VCSE sector and much of that demand is not best-fit with our services. Far too many people with severe and enduring mental health challenges and people in real emotional crisis are being referred to counselling and therapy services when they are not in a position to be able to begin a therapeutic healing and recovery journey. They need crisis support, stabilisation and, in some cases, medical intervention. They are being pushed from pillar to post which is re-traumatising. The system around us is spiralling downwards and is breaking. With future prospects of cuts and continued under-investment this will only get worse. The story is the same for any charity we speak to that is trying to support victims and survivors of abuse and violence or other vulnerable individuals."
"Tough. Retail sales down. Room hire okay but people don't want any increases in fees."
"We are currently in negotiations to join up with another group which would help both our groups in different ways."
"For [our charity], the past five years have been a real struggle. There has been no funding available from the local City or County Council. The whole of the COVID period was a huge disappointment – especially trying to force vulnerable adults to use on-line learning from home. These adults barely have money to buy food and are reliant on food banks and during the COVID period their Universal Credit was cut by £20. These adults (many who cannot read or write English) were forced to look for employment and prove to the job centres that they were actively looking for employment. Yet, centres like ourselves were forced to close and not provide the basic services that we provided in the community."
"The Energy crisis has encouraged people to take up our energy services. Unfortunately, we are a micro charity and have no paid employees, it is difficult to keep up with the demand. Funding is so difficult to find."
To find out more about how Third Sector organisations manage to keep going through difficult times, see our latest report: Going the distance: how Third Sector organisations work through turbulent times – St Chad's College Durham (stchads.ac.uk)