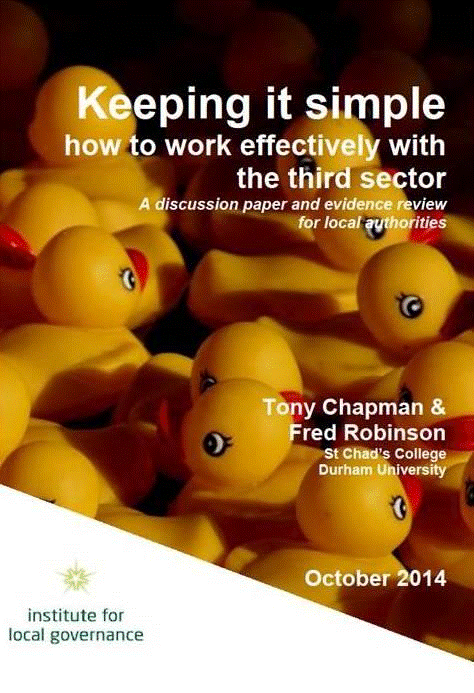 In recent decades financial pressures on local authorities (LAs) has resulted in significant changes in the ways their services are provided through, for example, contracting out services, co-production, asset transfer, volunteering and establishing new types of organisation (such as social enterprises and mutuals).
Such developments have presented internal and external organisational, cultural and operational challenges for LAs when forging new relationships between commissioner, producer, and customer/citizen. Building on evidence-based hypotheses from previous academic and action research, this project will help LAs produce new solutions to increase the impact of social policy interventions.
The new two-year project, beginning in September 2015, will work with six local authorities in North East England to do this work, including: Darlington Borough Council, Durham County Council, Gateshead Council,, Northumberland County Council, Stockton-on-Tees Borough Council and Sunderland City Council.
The project, jointly funded by the ESRC and Institute for Local Governance will be undertaken by Professors John Mawson (ILG), Tony Chapman and Fred Robinson of St Chad's College, Durham University.
The aim of the proposed programme of work is to assist LAs in navigating change in a complex political, social and economic environment which may demand fundamental change in the way that service delivery is conceptualised and effected.
To do this, LAs need to consider and embed new 'ways of thinking' about their working relationships with external organisations. Their ultimate purpose is to reduce the costs and improve the quality of services through new approaches to delivery whilst at the same time engaging more directly community organisations and citizens in the process.
The work will address six areas of policy and service delivery where impact can be achieved by 2019:
Transfer of community assets (achieving impact by increasing the number and quality of asset transfers of community centres, libraries, leisure centres, etc. so maintaining the continuity of service and facility in communities).
Commissioning and procurement (achieving impact by working with local government in designing processes which are more responsive to innovative delivery solutions thereby increasing the quality and outcomes arising from out sourcing decisions and thereby producing stronger social impact and best value for money investment in service delivery).
Mutualisation of council services (facilitating effective approaches to mutualisation by shared knowledge and experience amongst local authority participants and access to professional advice; impact to be measured by the number and economic value of ventures established and sustained).
Employee supported volunteering (raising awareness of the potential of ESVs for achieving community objectives in each LA; through co-production and collaborative working increasing levels and quality of ESV activity; and, exploring joint LA ventures in this domain. Impact can be measured by growth in ESV activity and proxy measures for economic value of such activity).
Assessing the impact of interventions (making good decisions on where measures of impact assessment should be employed: increasing the quality of economic and service quality impact assessment where needed and adopting other mechanisms to make good judgements on the social value of less measurable small-scale interventions)
Partnership working between LAs (impact to be assessed by showing where LAs have developed effective joint-working models as a result of the programme; co-produced economical shared innovation on service delivery and appraisal; where shared learning developed as a part of the programme has been implemented in practice).
The complete report and summary reports can be found here: Keeping it Simple (Summary Report) October 2014;