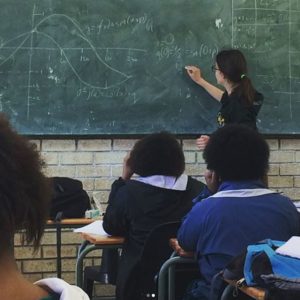 What's more terrifying? A cheetah 5 meters away from you or teaching 50 13 year olds? We ponder this whilst we recover from leading a 3 hour maths lesson at 8am on a Saturday morning. (Yes, 8am lectures, one thing Keiskammahoek and Durham University now have in common). But our time in South Africa did not begin here.
As three students, weary from a 10 and half hour flight, stumbled out of Port Elizabeth airport they were met by a knight in shining armour, Tim Bernard. Tim is a grizzled veteran of the South African education system (though he is not yet 51, Happy Birthday for Tuesday Tim!) and he would be our primary life support as we found our feet in South Africa. One could say we had a gentle start, braais, beaches and bitches (shout out to Molly, Tim's dog). Tim and his wife Michelle gave a great insight into both the history and culture surrounding South Africa and the expectations upon us on the classroom.
By Sunday we were back in a small town dominated by a large Church and a university, yes we were back in Durham or something quite like it – Grahamstown (soon to be renamed Makanda – locals are joking that the government wanted to tie the town to Wakanda of the Black Panther films).
The first job was to learn isiXhosa. We bet you pronounced that wrong, we are still learning to perform an 'aspirated lateral click' to give but one example.
Wednesday and Thursday mornings saw our first taste of teaching. We observed some incredible teachers who showed us how it could be done, but our first attempts were perhaps less than inspiring, Ermos forgot what a verb was, Andy let a cow loose in his classroom and Sarina somehow lost the number between 7 and 9 – I would 'eight to be her.
Fortunately, Tim's son Eric took pity on us and rewarded our efforts with a game drive. This is where the cheetah became involved, we got a once in a lifetime opportunity to be next to a cheetah and him not want to bite our heads off, thanks to Steve the Wildebeest for taking one for the team.
After that it was time to go to St Matthew's, where we will be spending the remaining 6 weeks volunteering. The drive here was rather uneventful, for once, no pedestrians were in danger from Andy's driving, no passengers were in danger from Ermos' and no driveways were in danger from Sarina's driving.
Having met the staff and already started teaching here we are all incredibly excited for what the next 6 weeks will bring. Not missing you guys at all, for the final time Mum, I'm fine! (from Ermos)