A major new report on the Third Sector in Yorkshire and the Humber has been  published by Policy&Practice  on Monday 17th July 2017.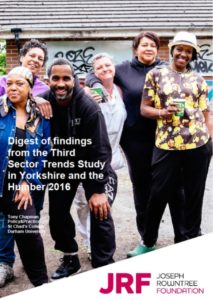 The Third Sector Trends study has been running in Yorkshire and the Humber since 2010.  The first phase of the work, funded by Northern Rock Foundation established a baseline assessment of the size and structure of the sector. This work was carried out by NCVO and Southampton University.
In 2013, Joseph Rowntree Foundation (JRF) funded a major survey of over 1,000 charities in the region in collaboration with Involve Yorkshire & the Humber and St Chad's College, Durham University. A second phase of the work was undertaken in 2016, also by Professor Tony Chapman of  St Chad's College – again generously funded by JRF.
The results of the 2016 survey chart the progress the Third Sector has made over the last ten years in tackling key social, economic and environmental issues in the region.
The work runs alongside two other major studies in North West England, funded by Garfield Weston and IPPR North, and in the North East by Community Foundation Tyne & Wear and Northumberland who are now responsible for the legacy of the Northern Rock Foundation work and for the development of future iterations of the project.
The 2016 study report can be found here THIRD SECTOR TRENDS IN YORKSHIRE AND THE HUMBER 2016
The 2014 study report can be found Third Sector Trends in Yorkshire and the Humber May 2014