Professor Tony Chapman spoke in Bradford City Hall Council Chamber on 29th June about his research on the Third Sector in the City. The presentation was based on 167 responses, the best result for a single local authority in a wider survey on the sector across Yorkshire and the Humber.
The audience was a mix of voluntary sector and public sector participants who wanted to know what the key trends were in the funding and financial wellbeing of charities in Bradford.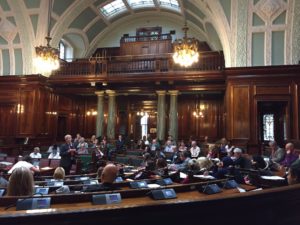 The session was opened by Councillor Abdul Jabar who has Cabinet responsibility for neighbourhood and community safety in the city and chaired by Amria Khatun of Bradford Council Strategy Office for Stronger Communities.
The presentation, which draws on data from the JRF funded Third Sector Trends study in Yorkshire and the Humber, shows that the voluntary sector in Bradford is resilient but that organisations are more likely to be facing financial vulnerability than in Yorkshire and the Humber as a whole.
The event was organised by Paul Colley of Community Action Bradford and District and joint funded with City of Bradford Metropolitan District Council.
The full report is available here: THIRD SECTOR TRENDS BRADFORD 2016