For the first time in 2019, the long-running Third Sector Trends Study extended its reach across the whole of England and Wales and collected responses from over 4,000 charities, social enterprises, local community groups and cooperatives.
This first working paper published in this programme of work is technical in nature and does not lend itself to easy-to-grasp headlines and soundbites. What it does do is provide a foundation upon which more accessible briefing reports can be produced which can be relied upon to provide more accurate estimates on sector activity.
Even with a large sample of organisations such as this it is difficult to generalise about findings unless data can be 'scaled up' to national and regional levels by using reliable multipliers.
To do this, the Third Sector Trends Study has now used data from the Charity Commission register, the Third Sector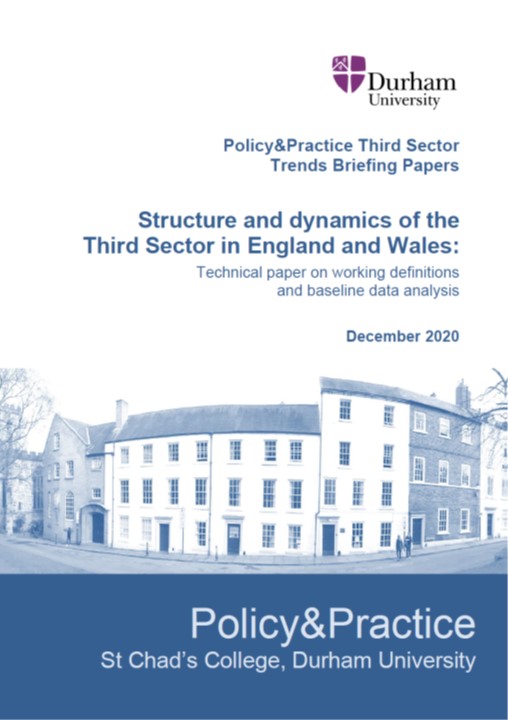 Trends Study and NCVO Civil Society Almanac to get a much clearer picture about the situation of the local Third Sector across England and Wales.
The analysis is not perfect, methodological refinements will need to be made and more data collected in future rounds of the study to answer new questions as they arise. But it is a starting point to move analysis in new directions.
Future briefings will build on this work by exploring issues through new lenses to cast light on the wealth of diversity in civil society and the benefits that can bring to a wide range of constituencies of individuals and interests.
A blog outlining the purpose and key messages from the study can be found here.
Structure and dynamics of the Third Sector in England and Wales: technical paper on working definitions and baseline data analysis, Durham: Policy&Practice is available at here: Structure and dynamics of the third sector in England and Wales (Revised February 2021)