Professor John Mawson has joined St Chads College as an honorary Professorial Fellow.  John has a long-standing relationship with members of the leaders of the Policy&Practice team: Professors Fred Robinson and Tony Chapman.  They have worked together on a wide range of projects over the last six years on issues  surrounding governance issues across the third sector and public sector. Professors Mawson and Chapman also jointly supervise three PhD stud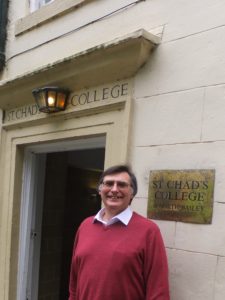 ents in Durham University Business School.
John Mawson has a multi-disciplinary professional and academic background. He is currently the Director of the Institute for Local Governance in Durham Business School and has previously been Chief Executive of the pioneering West Midlands Enterprise Board Ltd., a local authority controlled venture capital institution which was to successfully operate across the region between 1981 and 2012.
In the academic world John was Director of the public sector MBA programme at the School of Public Policy, Birmingham University and went on to hold Chairs in Town and Regional Planning at Dundee University, and Public Policy and Management at Aston Business School. Between 2001 -2009 he was Director of the Local Government Centre at Warwick Business School.
In the world of practice, John has held Board positions in several private-public sector partnerships and community initiatives including serving as a Director of the West Midlands Technology Transfer Centre, Warwick Science Park and Greets Green New Deal for Communities.
Professor Mawson has published several books and over 100 journal articles together with official publications on the management of cities and regions. He has secured some 12 Research Council grants and raised over £4 million of research grants and consultancy from central and local government, the voluntary sector and research foundations.
In welcoming Professor Mawson, College Principal Dr Margaret Masson said, "John brings a wealth of experience to Policy&Practice. The College is delighted to welcome him as an honorary Professorial Fellow. We look forward to a new phase of development of our research, policy and practice initiative to make an even  stronger contribution to economic wellbeing and social justice in the North of England".