Professor Kanji Tanimoto from Waseda University, Tokyo, spoke on the topic of 'The Institutionalization of Corporate Social Responsibility Management in Japan'.
The seminar will  took place on Thursday 18th January from  2.00 – 3.30 p.m.  in Williams Library, St Chad's College, Durham University, 18 North Bailey, Durham DH1 3RH.
The seminar discussed how pressures for corporate attention to CSR have been increased in Japan for the past decade and a half. Many Japanese companies have introduced CSR management system following leading companies and conformed to institutional isomorphic pressures.
However it is not an easy task to incorporate CSR into management processes in actuality. This study explores a gap between 'expected CSR management ' and 'actual conventional management' by giving an examples from a study  of Toshiba.
Professor Tanimoto stayed at St Chad's College, Durham on a two week research visit as a Visiting Professorial Fellow in January 2018.
Kanji Tanimoto is Professor in Business and Society at the Scho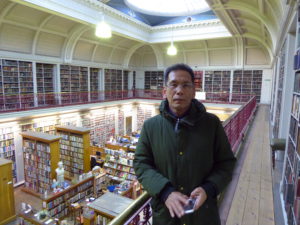 ol of Commerce, Waseda University, Japan.  He is Founder and President of an academy: Japan Forum of Business and Society, which is the first academic society in this field in Japan. He is an editorial member of several journals. He serves on the program committee of the International Conference on Corporate Social Responsibility at Humboldt University.
His research interests include the relationship between business and society, corporate social responsibility, social business and social innovation. He has published numerous books and papers.His personal website is: http://tanimoto-office.jp and email address: k.tanimoto@tanimoto-office.jp