A remarkable regeneration project is now well underway to create a world-class visitor destination in Bishop Auckland, County Durham. At its heart is a mission to revitalise the future of the town through employment, training and educational opportunities.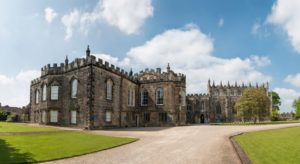 As an attraction, The Auckland Project will comprise Auckland Castle, for centuries the private palace of the Prince Bishops of Durham, along with galleries, gardens, restaurants, a park, a hotel and England's first museum exploring the history of faith in the British Isles.
Thanks to National Lottery players, The Heritage Lottery Fund (HLF) has made a substantial grant of £11.4m to The Project to support the conservation of the Castle and the creation of the new Faith Museum, as well as associated community activities.
Professor Fred Robinson and Ian Zass-Ogilvie from St Chad's College have now been commissioned by The Auckland Project to undertake an evaluation of this important HLF-supported work.
Fred Robinson said: "We are delighted to have the opportunity to support The Auckland Project. It's a really interesting approach to regeneration and we all hope it will make a big difference to the local economy and help revitalise the community."
"Our role is to evaluate what's being achieved by the Project – and look at the wider impacts too. We look forward to working closely with The Auckland Project."