IPPR North published a report today on the contribution business makes to the local third sector based on the longstanding Third Sector Trends study.  The report, written by Professor Tony Chapman (St Chad's College, Durham University) and Jack Hunter (IPPR North),  shows that: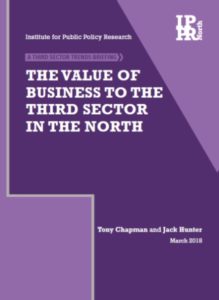 Businesses in the North of England make a "significant contribution" of £1.9bn to charities and other voluntary organisations.
Nearly 70% of third sector organisations in the North receive some form of financial support from business.
But the voluntary sector prefers businesses' cash over their in-kind support.
IPPR North's Jack Hunter said:
"Business in the North make a significant and valued contribution to the third sector, but businesses need to get much smarter in how they support charitable activity. One-off volunteering events might be easy to arrange and encourage teambuilding, but they tend to have limited value on the ground – instead charities get the most benefit from a long-term and sustained relationship with businesses."
And as Tony Chapman said:
"Many charity and business leaders may be surprised by the volume of financial and in-kind support given on social issues such as poverty. If the contribution of business remains largely invisible, then less of it will happen than could be the case. This research opens the door for more debate on where business can make a difference at the local level."
The report can be downloaded at this address: https://www.ippr.org/publication/third-sector-and-business