In June 2020, the long-established Third Sector Trends Study  carried out a 'one question survey' with former participants of it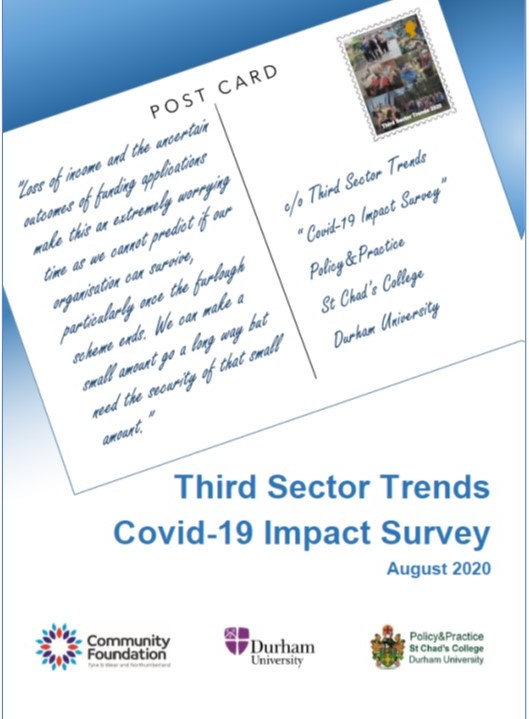 s major study across England and Wales which took place in 2019.  Its purpose was to find out the extent to which charity leaders' attitudes had changed about their prospects for the future after the shock of the Coronavirus pandemic.
Now that we have these data, it will be possible to see how opinions have changed in future, together with in-depth analysis of the shifting structure and dynamics of the sector when the main survey returns in mid 2022.
Inevitably, following the onset of Covid-19 and in light of its social and economic consequences, confidence has taken a serious knock. From a 10 per cent sample of the original study of 4,000, the results show that:
In June 2020, 56% of TSO leaders believed that their income would fall in the next two years compared with just 16% in 2019.
Only 11% of TSO leaders expected that income from private sector sources would fall when asked in 2019, now 62% expect that this will be the case.
Half of TSO leaders believed in June 2020 that grant income would decrease over the next two years, compared with just 19% in 2019.
In June 2020, 61% of TSO leaders thought that statutory funding would decrease, compared with 38% in 2019.
Expectations about support from volunteers has changed: in 2019 only 8% of TSOs thought that support would fall, by June 2020, 18% of TSOs leaders thought this would be the case.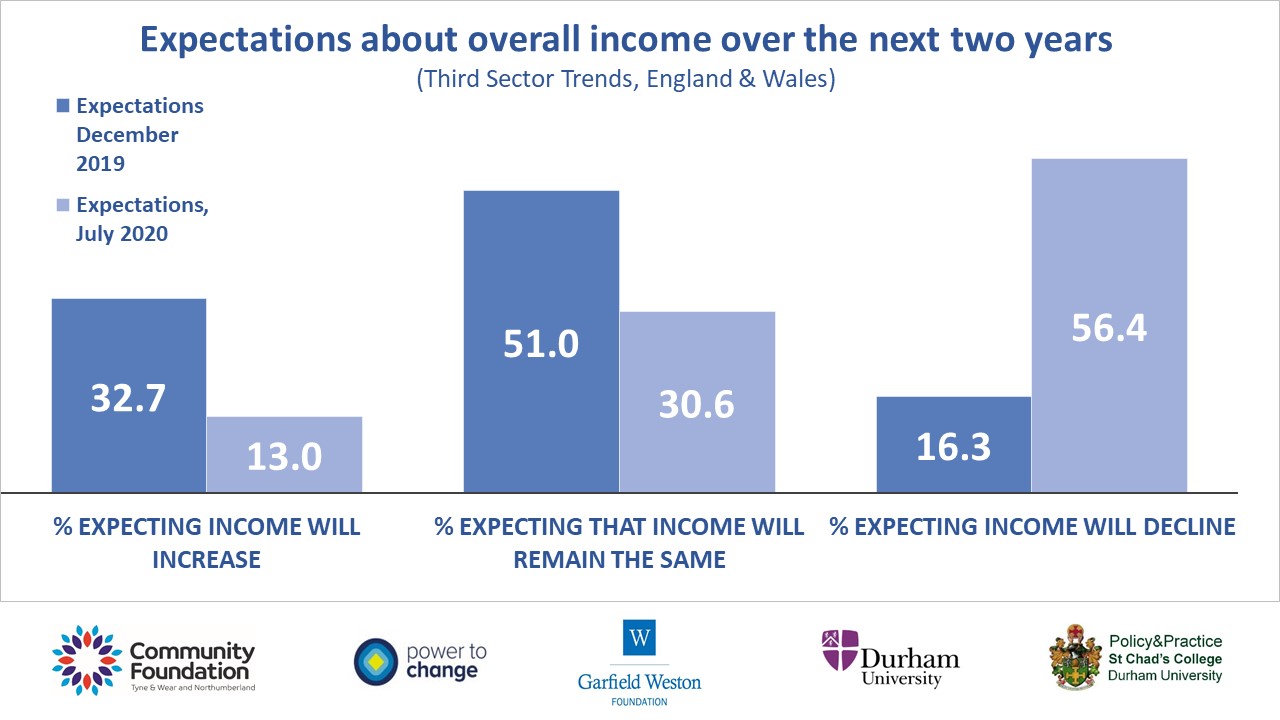 Of course, these are only predictions, because nobody really knows what will happen next. Indeed, written  commentaries from survey participants, often reflect ambivalent feelings.  As one charity leader told us:
"On the one hand we're exhausted by all that we've had to do at pace in the last four months. But at the same time we have to find the energy to grasp some really important new opportunities (and effectively manage them) before they slip away again. Wish we could just hit the pause button and have a bit of time to take stock, but we have to reset our strategy, plan for a different future, build some new relationships and partnerships, all whilst continuing (for a long time to come) to deliver our crisis response work (which is itself exponentially different to our usual day job.). Oh, and dealing with our own personal experiences of the crisis to boot, and support our staff in their own personal experiences too. Just drained!"
Rob Williamson, Chief Executive of the Community Foundation which commissions Third Sector Trends said:
"When we launched the 2020 edition of Third Sector Trends in May we knew that the data would need to be updated because of the pandemic. We also knew we had a large and willing community of respondents who we hoped wouldn't mind filling in another survey. As Professor Chapman notes we can't say whether the fears of organisations surveyed the organisations will come to pass but the data gives us a benchmark for when we come back in 2022 and find out whether this lack of confidence was misplaced."
The report is available now from the Community Foundation serving Tyne & Wear and Northumberland at this address: Third Sector Trends Covid-19 Impact Survey Report
Tony Chapman has also written a short blog on the key findings which can be accessed here.