The fifth iteration of the Third Sector Trends study in North East England is published today and will be launched in a Community Foundation Tyne & Wear and Northumberland webinar. The report, based on a representative sample of over 1,000 organisations, takes a long-term view not available from other research on charities and community organisations regionally or nationally.
The recent findings paint a picture of a sector that, having stayed fairly resilient during and after the financial crisis had, by December 2019, started to see small increases in the number of organisations, employees and volunteers. Comprising 7,200 organisations, 38,250 employees and 154,000 volunteers, the sector is a significant part of the North East ecology.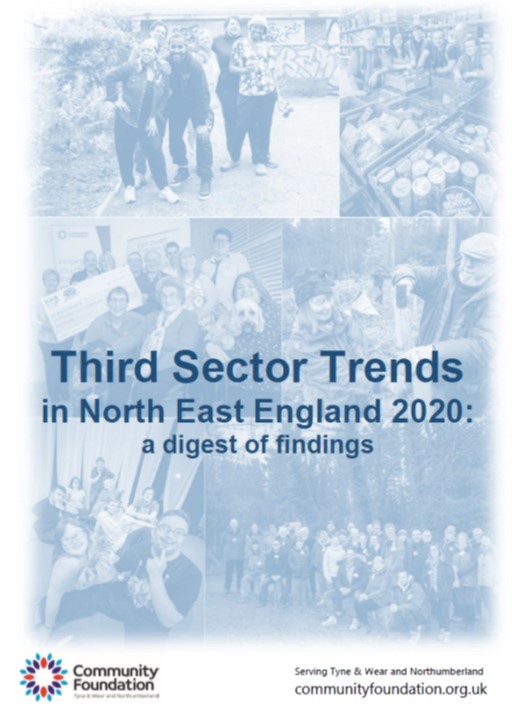 Already playing an important role in supporting many vulnerable people during the Covid-19 crisis, the latest findings give an insight into how the sector in the region may fare after Covid-19.
Many charities, community groups and social enterprises will suffer financial hardship as the economy reels from the Covid-19 pandemic. But this report shows that organisations with different characteristics will respond to the challenges ahead in a variety of ways. Drawing these distinctions will be useful, it is hoped, to grant making foundations and public sector bodies which support the Third Sector.
Rob Williamson CEO of the Community Foundation said:
"When we commissioned this latest edition of the Community Foundation's Third Sector Trends Study, we could never have envisaged the extraordinary circumstance we'd be in when it came to sharing the results. Over twelve years, Third Sector Trends has reported on the financial crisis and impact of austerity. The pre-Covid-19 data reveals a sector finally coming out the other side. This raises critical questions about how charities and community organisations will come through the current crisis. But, as Prof Chapman says, the findings give funders, policy-makers and sector organisations an opportunity to pause, reflect and look at the big picture rather than becoming overwhelmed by the here and now."
The author of Third Sector Trends, Professor Tony Chapman, said:
"Previous Third Sector Trends reports have drawn some criticism for being 'too optimistic'. Our results often run contrary to assumptions, and don't mirror the findings of small scale, one-off surveys. But, as a long-term study, now running for 12 years, our data will provide vital comparative evidence to inform thinking in these enormously difficult times. The money side of things is extremely worrying now, but the sector does not run just on financial resource – it is fuelled by the ideas, values and work of the people who work in it. Few of them will be ready to throw in the towel. Many will be more determined than ever. whatever comes next, we know civil society is here to stay."
The full report, a shorter summary report and an infographic which captures key findings  will be available on the Community Foundation website on May 27th, 2020 at this web address: https://www.communityfoundation.org.uk/knowledge-and-leadership/third-sector-trends-research/
Or you can download the full report here: THIRD SECTOR TRENDS IN NORTH EAST ENGLAND 2020
And a summary report here: SUMMARY REPORT Third Sector Trends 2020 in North East England
The launch presentation slides, from 27th May, are available here: NORTH EAST TST LAUNCH PRESENTATION 27th May