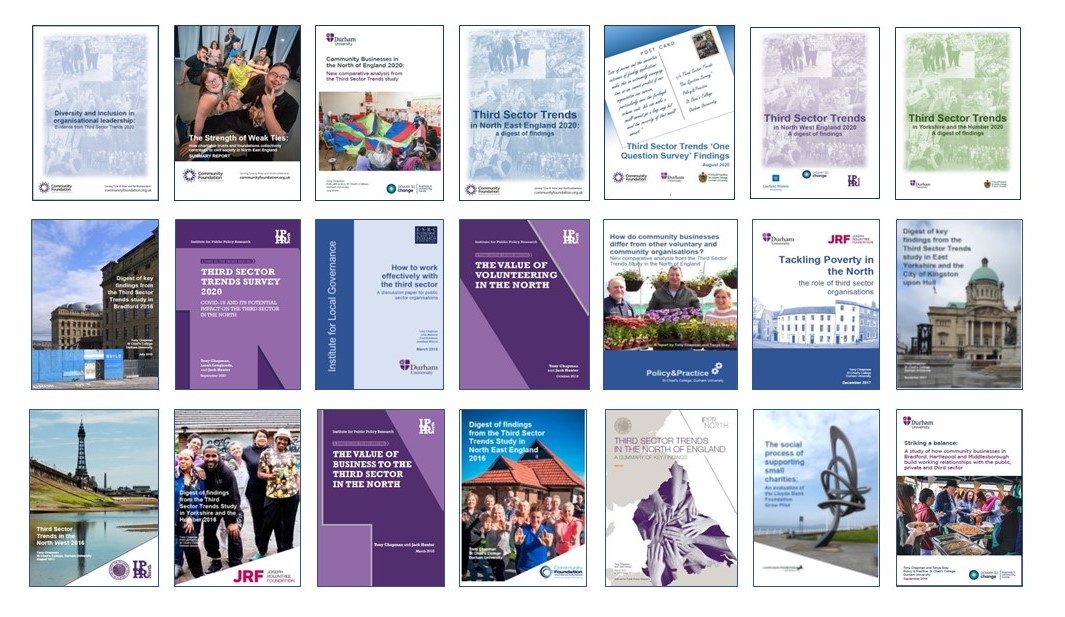 Third Sector Trends is a longitudinal study which was established in 2008.  As such it is the longest running research programme of its kind in the UK.  The work continued from 2018-2020 thanks to the support of the Community Foundation serving Tyne & Wear and Northumberland, Power to Change and Garfield Weston Foundation and the work is now complete culminating in a series of reports.
The study has produced many reports which are available at this address: https://www.communityfoundation.org.uk/knowledge-and-leadership/third-sector-trends-research/
Third Sector Trends Study 2022
The study will resume in 2022 across the North of England and will be extended across all remaining areas of England and Wales following a successful pilot study in 2019.
The impact of the Third Sector Trends Study is considerable as it informs voluntary and community organisations, cooperatives, community businesses and social enterprise about the wellbeing and direction of the sector.  Its results are also widely used by policy makers and funding bodies.
The original aim of the Third Sector Trends study, when commissioned by Northern Rock Foundation, was to examine objectively the structure and dynamics of the third sector in North East England. In 2015, the Community Foundation assumed responsibility for the study and its legacy and took it forward working with JRF, Garfield Weston, Power to Change and IPPR North.
The work has included both quantitative and qualitative analysis and in the early stages it also involved the Universities  of Teesside and Southampton.
The TSO1000 survey
The longest running aspect of the study is its biennial survey of the sector in North East England and Cumbria which entered its fifth iteration in 2019. The large scale study now collects data from right across the North of England allowing for in-depth analysis of more than 3,000 respondents.
In 2020 the study was extended across remaining areas of England and Wales.  This pilot study will inform the development of a nationwide survey in 2022 in addition to more intensive work across the North East England study, Yorkshire and the Humber  and North West England.
The TSO50 study
A second strand of the work is a longitudinal study of a cohort of 50 third sector organisations in North East England and Cumbria. This research began in 2010 and has continued to 2020.
The role and impact of charitable foundations
Additionally in 2019, a study of the third sector from the point of view of charitable foundations took place. This research, which included 25 charitable grant making foundations based in or beyond the North East region,  examined the approaches taken to funding and will paid special attention to its impact on localities throughout the region.