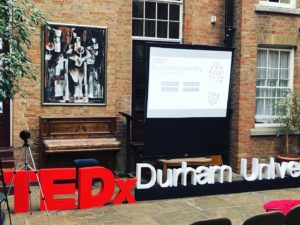 On the 7th March, St. Chad's hosted the annual TEDxDurhamUniversity conference. The theme this year was "Make Your Mark" and featured a series of inspirational speakers and fantastic performances.
TEDxDurhamUniversity is a student run society which bring together bright minds in order to give and listen to "ideas worth spreading". The aim of this year's conference was to inspire students at Durham University to bring new ideas and innovations to all areas of their lives.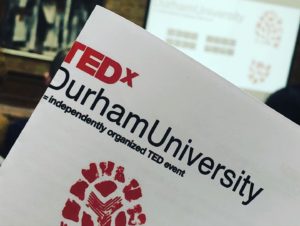 The speakers of this year's event were a mixture of students and international figures: Sarah Mardini; Matt Unerman; Malin Anderson; Sarah De Carvalho; Gladys Kyotungire; Ediri Omonoseh and Adrian Bradshaw. Between them their experiences range from work in international development, humanitarian campaigns, climate change activism, the military and more. Each speaker brought their personal experiences to the TEDx stage in order to share advice, motivate and inspire students to follow in their footsteps, making their mark on the communities and world around them. The conference also featured a number of performances, including music, poetry and magic.
A number of St. Chad's students were able to attend the event and we hope that all the students from St. Chad's and the wider university community enjoyed the day and feel inspired to make their mark. If you were unable to attend the event, the talks will soon be uploaded to the TEDx YouTube page for everyone to watch.