For the first time ever, Charities Committee organised a 'Chad's Got Talent' show, which put to performance a wide range of impressive acts by Chadsians.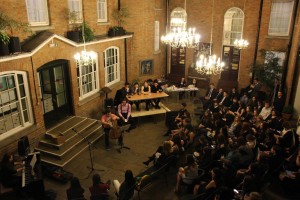 The show hit off and aptly demonstrated how truly multi-talented the college's student body is – indeed, the sheer 'diversity' of talent is not to be underestimated. The acts ranged from brilliant singing voices, a spectacular show of speed-eating, a resonating cello concerto, the strength challenge of parallel dips done by the JCR's very own Keeper of the Gym, and a hilarious, jaw-dropping lap-dance performed by two brave fellows with two lucky females (appropriately censored, of course).
The judging panel of James, Tom, Sarah and Stevie, with the MC of the show, SamThe showcase featured a panel of judges consisting of four members of the exec: James de Lusignan (Senior Man, otherwise known as Simon Cowell, lacking neither in attitude nor sass), Tom Govey (Social Secretary), Stevie Gibbs (Sports Officer), and Sarah Cottrill (Chair). The highly engaging MC, Sam Rawcliffe, mediated between performers, judges and the crowd, reeling in boundless energy.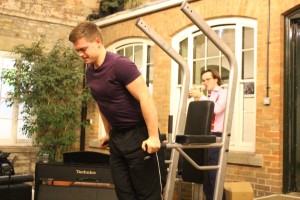 The fundraising took a creative turn by selling tokens to the audience, which people then used to place into boxes corresponding to each act, in a bid to see who would take to the final round. The two acts that accumulated the highest number of tokens were a singing and a dancing act; they performed once more for the expectant crowd, and eventually, the judgments of the winner were left in the hands of the judges. Alas, there was mixed opinion within the panel as to who deserved the prize. The result was a deadlock, with each act having two judges backing them. And so the MC decided to place the ultimate decision in the crowd's hands – which act would elicit the loudest cheer? The winner was evident – Helena Morgan, with her flawless singing voice akin to Amy Winehouse, was crowned winner of Chad's Got Talent.
The Charities Committee would like to thank the efforts of each performer, the judges and the MC for pulling together a night that turned out to be a huge success, marking the end of a busy Epiphany term with a bang!