St Chad's is set in the shadow of Durham Cathedral and fronts onto North Bailey, a medieval street. Beyond the gardens, the land falls away into the wooded gorge of the River Wear which flows round this high peninsula, once the citadel of the Prince Bishops.
The beautiful setting of our picture perfect gardens, where your guests can enjoy a drinks reception on the lawn, and the splendid surroundings of the Moulsdale Hall & the glass covered Cassidy Quad make an ideal setting for your wedding reception. You will receive a professional, friendly and caring service from our staff who will endeavour to ensure that your special day is everything you could wish for.
At St Chad's we pride ourselves on our attention to detail and our ability to meet your requirements and wishes at a sensible price.
Our Head Chef and his team provide excellent cuisine, giving variety and style to all our dishes. We are also able to offer competitively priced B&B accommodation for your guests.
 As well as our amazing packages we also welcome the opportunity in creating bespoke menus to suit all palates and budgets.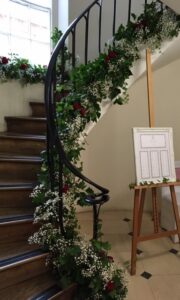 If you would like to find out more about holding your wedding at St Chad's please contact us via email at chads.commercial@durham.ac.uk or by telephone 0191 334 3328 to arrange a time to come and view the venue and discuss your bespoke requirements*.
We look forward to welcoming you to our beautiful venue and gardens.
Email Chads.commercial@durham.ac.uk
Telephone 0191 334 3328
Follow us on Instagram 

@weddings.at.stchads
*appointments must be pre-arranged and are subject to availability
Please take a moment to familiarise yourself with our Terms & Conditions by clicking the link below.
St Chad's Terms and Conditions Weddings
*Please note T&Cs  maybe subject to change without prior notice.