Situated directly opposite Durham Cathedral, St Chad's is an ideal base for a pilgrimage to the many holy sites of Celtic North East England.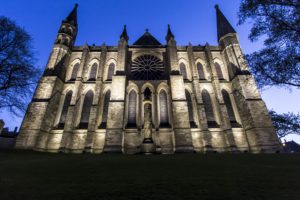 In addition to the Cathedral itself, which contains the tombs of St. Cuthbert and the Venerable Bede, Durham is ideally situated for visits to many of the other key sites in the region.
Amongst the most popular and important sites is the Holy Island of Lindisfarne, separated from the mainland by a tidal causeway. It was here that St. Aidan established his monastery at the request of the Christian king, Oswald, in 635AD. Although there are no traces of Aidan's monastery extant today, it was replaced by a Benedictine priory in the 12th Century, the remains of which are one of the many special places to visit on the island.
Another major site is at Jarrow, where Bede lived and worked for his entire adult life. The church of St Paul in Jarrow is built alongside the monastic ruins of Bede's monastery, and incorporates the Saxon chancel as part of the church. Jarrow is also home to Jarrow Hall, a remarkable museum, which houses the Bede Museum, telling the story of Bede.  There is also an Anglo-Saxon Farm and Village museum, offering an insight into life in the seventh and eighth centuries.
There are many other historic places (including Hexham, Ripon, York, and the ruined abbeys of Fountains, Whitby and Rievaulx) that you may wish to visit during your stay with us. Opportunities and materials for worship may also be offered (most of the churches of interest are very happy to make provision for pilgrim groups to hold their own service in the church).
If you would like to discuss the possibility of arranging to bring a pilgrim group to these special places, please contact the Conference Office.