Boys will be boys? Lad culture, toxic masculinity, and how to balance freedom of speech with the need to keep our communities safe
On 19th October 2020, around 60 Chadsians from across the globe gathered together on Zoom for the first ever online PERSPECTIVES session (from as close as the third floor of Main College to as far afield as Malawi, where an epic thunderstorm threatened the internet connection!). It was also the first time that PERSPECTIVES has collaborated with our College's Feminist Society (known as FemSoc).
PERSPECTIVES is the St Chad's College inter-common room discussion forum. It aims to encourage members of St Chad's College – whether JCR, MCR, or SCR – to develop their multi-disciplinary intellectual curiosity; their skills of critical and innovative thinking; and their self-identity as responsible, informed, and effective global citizens. PERSPECTIVES is not a debate or a public speaking competition, and there are no 'right answers' or winning sides – it's more about exploring the important questions than providing the definitive answers!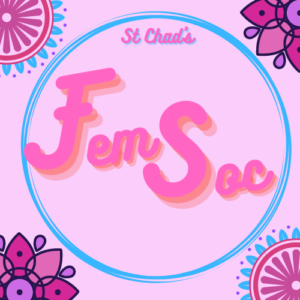 We were joined by our expert speakers, Eliza Bechtold (Deputy Director of the Durham Law School Human Rights Centre) and Dr Stephen Burrell (Assistant Professor, Durham University School of Applied Social Sciences), as well as hearing an anonymous statement provided by Durham University Survivors, an online platform for survivors of sexual violence to share their stories anonymously. After hearing from our speakers, we adjourned into breakout rooms for smaller group discussion before returning to the main Zoom room for further conversation. Discussion included consideration of the potential for escalation from 'banter' and casual sexism to serious sexual violence, and the ways in which we can best challenge the cultural normalisation of misogyny in our communities. We were particularly interested to hear Eliza's explanation of the distinction between what is merely offensive and what constitutes hate speech under UK law, and to hear about Stephen's research on how the Covid-19 pandemic has affected conceptions of masculinity.

We were delighted with the good turn out, enthusiastic engagement with the speaker, and with how well the technology worked! We're determined that the current Covid restrictions shouldn't prevent our students from benefitting from our usual varied programme of scholarly and co-curricular activities, and we are already planning our next PERSPECTIVE session for November.
Many thanks to Eliza, Stephen, and to Durham Survivors for participating in what was a brilliant evening of learning and discussion.