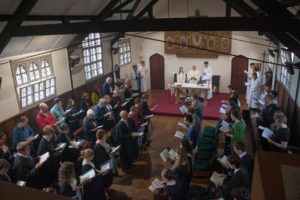 There is a regular pattern of term-time services in the College chapel.  Sunday Choral Eucharist at 11:00 and Tuesdays at 18:15 Choral Evensong where music is led by the College choir and organists.  We also celebrate Principal Feasts and Holy Days, as well as holding occasional services in different worship styles (e.g. Taizé, Iona).
There is a short reflective prayer service during term-time Mon-Wed and Friday 13:00 – 13:15 which is led by staff and students.  There is a said Eucharist on Thursdays 13:00 – 13:25.
Although the Chaplain is the normal president and preacher, other resident clergy and visiting preachers add their voices as well. Everybody is welcome at all our services and all baptised Christians are welcome to receive communion.
Students assist the Chaplain with the practicalities of running the Chapel. Students and staff read lessons, lead intercessions and occasionally contribute to the music. If you would like to help in any way with Chapel services please email or speak with the Chaplain.
Collections from Chapel services are donated to the College's charity of the term.
Please see the Chaplaincy Term Card Easter Term 2019