On the 2nd of March every year, something very special happens on North Bailey, Durham. Think green, think 8am, think pots, pans, whistles and tradition. Think St. Chad's Day. If Chadsians needed a reason to enjoy their weekend during summative season, this is it. Filled with a tight itinerary, Chad's day is a day which all can enjoy. There is only one dress code: green. The morning began by meeting just before 8am, a sea of green illuminating the Cassidy Quad. With everyone ready and the JCR President Josh sat on an elevated chair, hoisted by Boat Club blades and carried by strong students, the parade to all Bailey colleges with the intention of making as much noise as possible began. Hatfield, Castle, John's, Cuth's: we may be small, but we are mighty.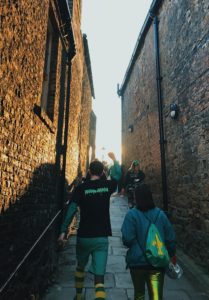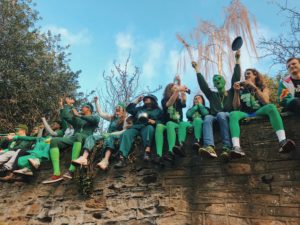 After the procession, Chadsians alike had breakfast in Moulsdale Hall; green milk included. At 10:30 came the unique Cathedral Service, with various performances. Afterwards gave an opportunity for Chad's alumni to meet in the SCR for a catch up and a hot drink, before the Palace Green race at 12pm.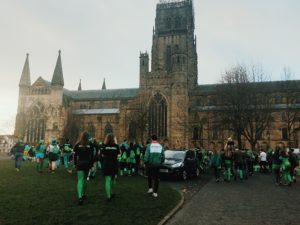 11:59am saw the gathering of Chadsians on the start line, ready to sprint around Palace Green on the first chime of 12. For what, you may wonder? The college mascot goat costume, of course. Despite scratches, scrapes and close-losses, the Keeper of the College Goat emerged. Quite a different climate from last year, Palace Green was not as icy this year!
After all the exercise and a college lunch, Chad's day afternoon quietens off, allowing some respite for the afternoon and evening ahead.
The late afternoon was filled with various sporting events, including Men's football and a win for Chad's Women's Hockey. Chadsians then made their way back from Maiden Castle to participate in and watch Chad's Family Fortunes. Following that, the battle for Mr and Mrs Chad's proceeded, with participants fulfilling various tasks to claim their title, with last year's Mr and Mrs Chad's presenting this year's competition to spectators.
The day draws to a close, the headphones are charged, the bar is getting busier and the inflatables are set up. Chad's annual silent disco is ready to begin. Chadsians dance the night away. Midnight hits, it's been a long day, and Chadsians are ready for bed. An eventful, bright and fun-packed day, St. Chad's Day 2019 is over, until next year; when we'll do it all again.