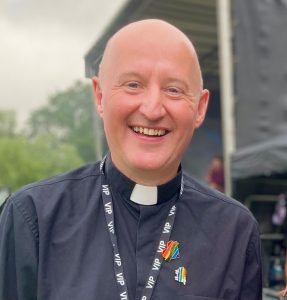 The Revd David Rushton
chads.chaplain@durham.ac.uk
0191 334 3352
Office: First floor of Main College (if my door is open, I may well be free for a chat!)
Why on earth would I want to talk to a chaplain?  I'm not religious, will the chaplain understand my needs?
You may be thinking all or some of the above.  I was once a student here too and probably wondered whether the guy in the dog-collar would "get me"!
I hope you won't feel like that with me.  I am available to all students and staff of the College; to meet and talk through anything at all that is concerning you, however large or small it may seem.
I will not have all the answers, far from it, but I hope that by listening and helping you to explore, you can feel better equipped to face what may be happening to you at a particular moment in your life.
University life brings many moments of joy and exciting new experiences, but it can sometimes bring unexpected challenges.  If they feel too much, don't hesitate to come and talk them through or catch me around college in the bar or over a coffee.
If you wish to explore issues of faith or belief and your sense of vocation I am always happy to support you in discerning what is right for you.  Equally, if you feel you need some specific guidance beyond my expertise, I am very happy to put you in touch with contacts within the wider University and City.
You can follow me on Twitter  or check out the Chaplaincy and Outreach Instagram and Facebook pages.