Welcome to the Chapel
Ever since St Chad's College was founded in 1904, the Chapel has been an important part of its life. Despite the numerous changes in the College during the subsequent century and beyond, the Chapel remains a place of quiet reflection for all members of the College.  All members of College are welcome to services and events in the chapel, whatever your faith or belief.  If you want to find a place to explore your ideas and beliefs, we hope that you will feel welcome.
A small, humble building under the shadow (literally!) of a great cathedral, the Chapel has maintained a distinctive tradition of modern and inclusive Anglican*-Catholic liturgy and music which draws students from other colleges and visitors from the broader Durham community.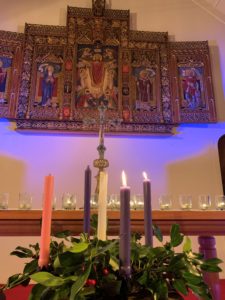 There is a lively and active chapel life with regular services in the week during term-time, usuallly with music provided by the College choir and organists. Following the Sunday morning service there is time to talk over coffee and cake in the Senior Common Room.   All students and staff are warmly invited to join us for this time, whether or not you attended the service!  The theme of food continues with many continuing their conversations during the ever popular College weekend brunch!
*Anglican is a general name for the Church of England and those Churches historically related to it.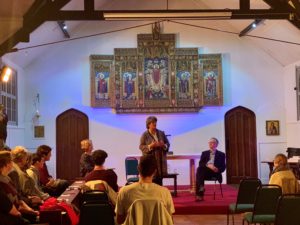 There are also chaplaincy hosted events throughout the year with invited speakers, helping us to explore contemporary issues from a range of faith and belief perspectives.
The chaplaincy services and events are published here.
You can keep up to date with Chaplaincy and Outreach activities via our Facebook or Instagram pages.