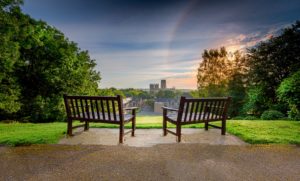 Many people find that it is at University that they really begin to make sense of the world and their place in it. Having space to ask life's BIG questions, and people to share with as you explore possible answers, is really important.  St Chad's encourages all students (and staff) to explore the spiritual and religious dimensions of life.
The chaplain is available to all students and staff offering space and opportunity for reflection, listening, exploration, confidential support, prayer, worship, meditation and socialising.
Whatever your position on religion or belief, your nationality, gender, sexual orientation or role within the University, the chaplain is here to offer you non-judgemental hospitality and support.
​The chaplain is not here to convert you, or to push any kind of agenda. He is available to encourage you to explore, to ask questions, to make links between religion or belief and your academic study, and to build a supportive community.
The College is committed to valuing the range of views held about religion and belief; it is serious about dialogue and welcomes diversity.  The College is committed both to being ecumenical (working with Christians from a range of churches) and to working in an inter-faith context, promoting dialogue with members of all faiths and beliefs.
Keep up to date with Chaplaincy and Outreach activities via Facebook and Instagram.
More Faith Information
Faith Information:
If you have special requirements linked to your faith relating to accommodation, diet or the observance of festivals then contact the College chaplain, who will be happy to provide information and guidance.
Durham, with its magnificent Cathedral just across the street from St Chad's, is a major Christian centre with a long history of religious devotion. The College is a Church of England foundation (and the chaplain is an Anglican priest) though it welcomes people of all faiths and beliefs.
The College has its own chapel, and Durham has no shortage of churches.  The University itself also provides facilities for various religious communities, such as a Muslim Prayer room for use by the University's Islamic Society.
In addition to the various worship services in the Chapel, there is also a broader, more holistic aspect of Chaplaincy. This broader aspect has several elements which extend throughout the life of the College: the Chaplaincy runs occasional Reading or Study Groups, trips and pilgrimages.