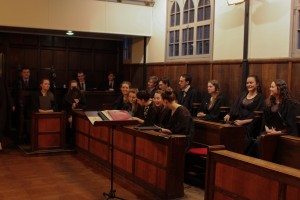 On Thursday, the College's choir, staff and students gathered together in the chapel for an evening of fantastic music. Following a successful visit to St. Mary's Cathedral in Edinburgh in February and appearance at the North East Festival of Youth Choirs, this concert was an ample opportunity to share some of the choir's musical highlights. A rousing rendition of Noble's Magnificat in B Minor was accompanied by Geoffrey Burgon's subtle and moving Nunc Dimittis, accompanied by trumpeter Tom Rickard (first year, Economics).
The theme of British music continued with SCR member Liz Roberts providing a stunning recital of 'The Swimmer' from Elgar's Sea Pictures, and choral scholar Emma Coombs treating the audience to the main theme from Nigel Hess' Ladies in Lavender on the violin.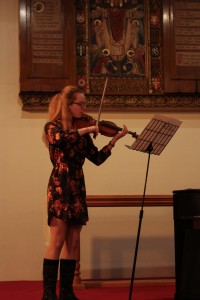 Tom Rickard then joined Abigail Ingram (first year, Music) for a hauntingly beautiful rendition of Handel's Eternal Source of Light Divine. This performance was back by popular demand, because the pair had also previously played and sung together in Durham Cathedral for the Chad's Day service.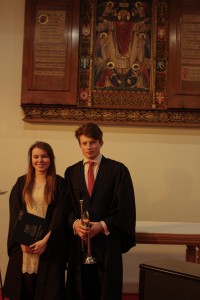 Our choral scholars Bryony Freer and Tom Heywood performed Schumann and Bach respectively. Bryony sang du ring an meinem finger, and Tom treated the audience to the piano accompaniment to Bach's sixth Violin Sonata.
Then there was a change in mood. Away went choirs and classical composers, and in came the fantastic Toh Yi Rong (first year, Natural Sciences), who sang Zina Goldrich's Taylor the Latte Boy, complete with her own Starbucks cup! Our Director of Music Roger Muttitt accompanied this most unusual of songs on the piano, and the audience were amused and captivated by this modern serenade about meeting a young man behind the counter of a coffee shop.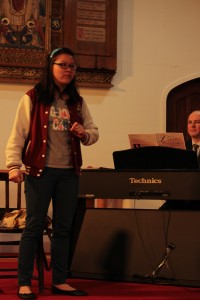 Talented pianist Ollie Griffiths (first year, Chemistry) played the soothing adagio from Beethoven's Pathethique Sonata (No. 8), and then it was time for the grand choral finale.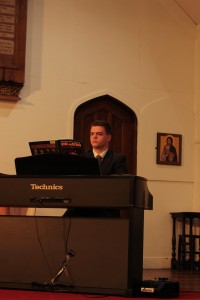 The contrast between Stanford's heavenly Beati Quorum Via and Vierne's almighty Kyrie from his Messe Sollenelle (with a fine accompaniment from our College organist Dr. Peter Swift) was stunning.
St. Chad's College is awash with musical talent, and Thursday's concert was an opportunity for our fantastic musicians to share their talents. We hope to make these concerts a regular fixture on the College Calendar!
St. Chad's College Chapel Choir is the largest and most diverse of Durham University's college choirs, welcoming in talented singers from other colleges too. The choir sings Eucharist every Sunday at 11am, and a service of Choral Evensong most Thursdays at 6:30pm. Next term, they will be going on tour to Amsterdam.
There are Choral and Organ Scholarships available to students, and requests for information should be sent to Roger Muttitt (roger.a.muttitt@durham.ac.uk).