On Sunday, 20 Chad's students visited Newcastle to enjoy the Lunar New Year celebration. Second year student, Katya, shares her impressions of the visit: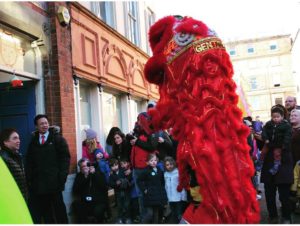 "Hi, my name is Katya and I went to the Lunar New Year celebration. After witnessing the 'Lion dance' at Chad's International Formal last year I was thrilled to see the 'Dragon dance' in the streets of Newcastle which involved more than 10 people dancing whilst holding a dragon puppet. This was followed by a picturesque performance of dancing and lighting small, red fireworks, accompanied by drums. The day concluded with a meal at the Sky Chinese Cuisine where we had the opportunity to try new dishes such as pork feet and chicken in bean sauce. Since we were all sharing food we had the opportunity to indulge in several interesting dishes and try Chinese tea. I am really grateful that the College sponsored this event because it allowed us to celebrate a new festival and explore a different culture."
Thank you to Chris Peng and all who helped to organise this visit.