As part of a small St. Chad's outreach project, each week, a small group of St. Chad's students venture out to the nearby town of Chester-le-street on an evening to help a family of Syrian refugees with their English language skills. I am incredibly glad to say I am one of those students. We open the gate and walk up the path of a semi-detached house. We are always greeted with smiling faces. This is the home of Muhammad, Amna, who are parents to Ahmad (22), Salah (18) and Rania (17).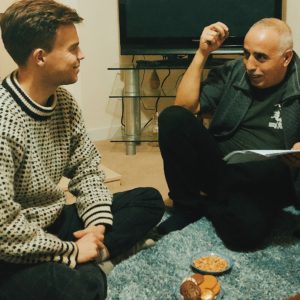 But this has not always been home. Over notes about pronunciation, Amna tells me of her childhood in Syria, how she met Muhammad (above) and how they got married. When the conflict worsened in Syria, the family moved to Jordan. Ahmad (below, right) shows me some of his writing: a letter to a friend back in Jordan, telling them of his new home in the UK. Muhammad and Ahmad were once manual labourers in Jordan.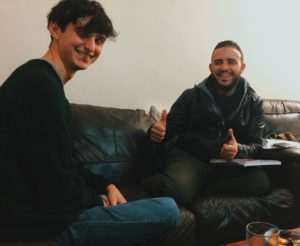 Now, their days are filled with Muhammad volunteering at the local Re-f-use Cafe and Ahmad working in catering at the University. Salah tells me of his school days in Syria, explaining how much he prefers his lessons at Durham New College. 'The teachers respect you as a student,' he states. Rania has recently been moved into the top set for her classes, Amna tells me with a beaming smile. Amna (below) enjoys cooking, and often brings out home bakes made from middle-eastern recipes, which are always very sweet, and always very delicious.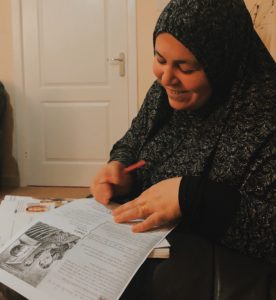 The family are all so keen to learn. They bounce off each other, we all laugh, over mispronunciations, the complexities of tenses, cognates, and when to use 'those', 'these', 'that', and 'this'.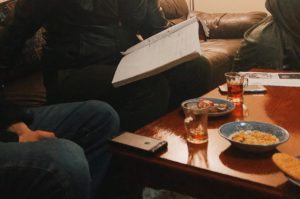 Being an hour or two and plenty cups of middle-eastern tea, these evenings are always modest, simple and heartwarming. The family are always so grateful. St. Chad's engages in several ongoing outreach and volunteering projects throughout the academic year; one of which takes us as far as South Africa. With the current, uncertain political and international environment, this project brings a personal element to wider issues. And, for that reason, amongst many, it is incredibly rewarding and most certainly feels like Chad's is making a difference as part of a bigger picture.