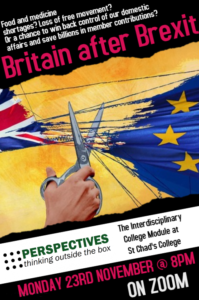 On 23rd November 2020, Chadsians and friends gathered on Zoom for the second PERSPECTIVES event of the academic year, focussing on the questions raised by Britain's imminent departure from the EU – with or without a deal.
We were privileged to be joined by four highly experienced and knowledgeable speakers: James Ramsbotham CBE, CEO of the North East England Chamber of Commerce; College Fellow Professor Bryan Morton CBE, Chairman of Aircraft Medical, ReNeuron, Glide and Oxford BioTherapeutics and Founder and CEO of two Pharma companies, Zeneus and EUSA; Dr Michael Nower, Lecturer in Economics in the Business School and investigator on the research project 'Brexit: International Trade and Productivity', assessing the impact of potential future trade agreements on the UK economy following UK's exit from the European Union; and DUBS alumnus Dr Martin Kaspar, Head of Corporate Development at Frankische and expert in Investment Promotion Agencies and Foreign Direct Investment (IPAs & FDI).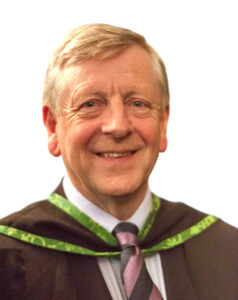 Following the news that Nissan, one of the largest employers in the North East region, looks set to close its Sunderland plant, the future for business and manufacturing in the North East looks set to be badly impacted by a no-deal Brexit, explained James Ramsbotham, but Bryan Morton offered some hope as he spoke about the potential opportunities for the British pharma and biotech industries post-Brexit. Michael Nower helped participants to think about both short-term and long-term consequences of Brexit and Martin Kaspar provided the continental perspective talking about how Britain is now perceived by our near neighbours in the EU after several years of wrangling and internal conflict.
The discussion was lively and passionate, but, in the true spirit of our PERSPECTIVES series, always well-informed and civil.
Many thanks to our speakers who so generously shared their time and expertise with us. We look forward to more PERSPECTIVES sessions online next term, and perhaps even the tantalising possibility of face-to-face sessions in the Easter term…!