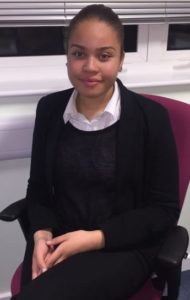 Leah Kadima-Muntu is a first year student, and is the 2017-18 recipient of the Shattock Family Scholarship. For Leah the financial support this award provides is very much appreciated, as not only will it allow her to buy textbooks and other academic paraphernalia, but it also enables her to experience a wider range of the cultural and extra-curricular activities that Durham University has to offer.
Since arriving in Durham Leah has joined  Durham Action on Singular Housing (DASH), a charity which aims to provide housing and support for those who are homeless or are at risk of being made homeless. She believes charities such as DASH are extremely relevant and much needed in our current socio-political climate: with homelessness on the rise, housing shortages and dependency on foodbanks she believes that many different groups are at risk, young people in particular. Leah says she is keen to do her bit to support others because she believes that it is reductionist simply to believe the aforementioned problems are a result of a meritocratic society – many people end up in bad positions merely due to chance, and it is very humbling to realise that she could just as easily be amongst the many thousands of young people forgotten and neglected by 'the system'.
Following her degree, Leah is considering continuing in academia – her area of particular interest is Latin America during the Cold War – or to begin a career in political research or for a think-tank as a way to get involved in policy making.
Leah says:
St Chad's has made me feel unbelievably welcome and I am glad to be a member of this college. What drew me to St Chad's was how outward-thinking and conscientious it is, as well as the fact that the various charity societies will enable me to further expand my social outreach….

I am extremely grateful … for being a recipient of [this] scholarship; many… are not necessarily aware of financial help which is provided by colleges like St Chad's through generous benefactors like [Matthew Shattock and his family]…

I am most grateful to be a recipient of a Shattock Family Scholarship at St Chad's; this award will allow me to put 100% of my effort into my studies and worry less about living expenses, as well as giving me the opportunity to have a full experience of university life, which in turn will allow my views to become more nuanced as I meet and get to know people from outside my particular bubble.  All this experience will hopefully make me a more well-rounded individual.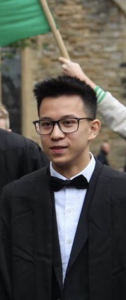 Chapman Hau is a first year student in Chemistry and is the newest recipient of the Cassidy Scholarship for 2017-18.
For him the Cassidy Scholarship provides the financial support he needs to pursue his dreams. In addition it has inspired him to give back to the community. He has already signed up to various volunteering opportunities in Durham – secondary and sixth form tutoring, maths club and dog walking to name a few! Having tutored and helped children from his community in order to weaken their generalisation that success is unachievable for those from less privileged backgrounds, he hopes to be able to serve in an educational position sometime in the future so that he may be of benefit to the less fortunate and under-represented social groups.
Chapman says:
Even though I have just begun my undergraduate studies at St Chad's College I am thoroughly enjoying College life and my course. During my first few weeks here I have delved into a new world of learning. I have already participated in many events at St Chad's and at Durham University as a whole – I got matriculated (twice!), visited the Fresher's Fair where I had a taste of the many societies Durham has to offer, and in my first lab session I synthesised cyclohexene.

The very generous Cassidy Memorial Scholarship will only continue to make my time at Durham more enjoyable without the worry of financial difficulties. My academic pursuits would not be possible without the kind support from the College alumni, friends and fellows. I would therefore like [say] a massive thank you [to everyone who has helped to contribute towards this scholarship and the College community].