Why St Chad's needs your support
St Chad's is an independent, self-funding college within Durham University. We receive a small amount of money from the University each year (about 15% of our income), and, as well as student residency charges, we rely on our commercial activity and gifts from supporters to provide students with the facilities they need.
Since 2013 we have raised nearly £600,000 in gifts – thank you; however, we need much more than this, in challenging times for universities, if we are to be able to provide future cohorts of Chadsians with more support, particularly scholarship support, to help them have a rewarding, productive and life-changing academic and social experience at St Chad's.
 What your support has done so far
We are delighted to say that the generosity of our Alumni and Supporters have allowed us to offer scholarships to several students, both postgraduate and undergraduate. Find out more about our scholars here.
Scholars Report: Ermos Chrysochos
OUR PROJECTS
The £1million Scholarship Fund
Our late principal, Dr Joe Cassidy, was passionate about St Chad's being able to offer students the support they need to succeed. He believed that anyone with aptitude and promise should have the opportunity to become part of an academic community like St Chad's, whatever their background. This is why we are launching an appeal for a £1million scholarship fund which will award generous annual bursaries to undergraduate and postgraduate applicants from less affluent economic backgrounds and under-represented communities. We already have £400,000 in gifts committed to this fund and we hope that you will consider supporting this worthwhile and enduring project.
Postgraduate bursaries
Many of our recent graduates have large levels of debt, something which might put them off higher study. Each year through the generosity of our donors we are able to give annual Postgraduate Bursaries of between £3,000 and £5,000. With this help some of our potential future academics and creative thinkers are encouraged to fulfilling their potential. The College, the University, academia and, most importantly, our planet needs postgrads so that research can inform efforts to make the world a better place.
College Choir Choral & Organ Scholarships
Our College Choir is a 40-strong group of enthusiastic singers and musicians 12 of whom, plus two Organ Scholars, receive a scholarship to be the core of the choir.  These students also receive singing lessons and are expected to support and encourage the less experienced members of the choir.  We are grateful to alumni and friends whose gifts to the Choir make having these dedicated scholars possible.
How to give
It is easy to give to St Chad's through your bank by Direct Debit. A regular monthly gift is a very effective way of spreading your gift over a year.  We will also claim Gift Aid from your gift if you declare you have paid enough tax.
To make a regular gift use this link to our Donor Debit site: Regular Gift
To make a single gift use this link to our Donor Debit site: Single Gift 
If you live in the USA or Canada you can give tax efficiently to St Chad's through DunelmUSA: https://www.dunelmusa.org/giving/
You can also download and print our St Chad's College Gift Form
Please send this to: Development Office, St Chad's College, 18 North Bailey, Durham. DH1 3RH.
A gift in your will
Planning your legacy can be moving, but you will know that after you have gone your gift and your name will have lasting importance.  If you would like to talk to College about leaving a legacy please contact Mark Roberts, Director of Development.
Those who are happy to tell us that they have left a gift to St Chad's College in their will will be invited to join our Horsfall Society, named after our founder and benefactor Howard Douglas Horsfall.
Giving your experience
Alumni can help current students by volunteering to offer careers advice for their particular profession and also through organising internships and placements. The JCR Careers and Alumni Representative helps put together students and alumni, as well as keeps the alumni up to date with college on-goings. In addition, alumni who have had particularly illuminating, illustrious, and inspiring careers, and those who have nuggets of wisdom to share, are encouraged to come back to the college to speak at events and pre-formal forums.
Thank you for giving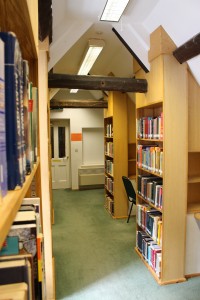 An increasing number of our alumni and friends already give generously to St Chad's. In the past you have helped us to expand our library facilities through our campaign for the Fenton Library. We always thank all our donors for their generosity, every donation makes a difference.
Thank you.