What our students said in 2019:
"I love the sense of community about St. Chads and the interaction with the staff- I love that the staff know my name and I feel like they know me personally. I know they will go above and beyond to help my friends and I with anything that we need help with. I sense that it's not just a job for them. That makes St. Chad's a home for me."
"Beautiful gardens"
"I have found this year at Chad's has enabled me to grow in both intellectual curiosity and confidence in social situations; the small community and friendliness here has allowed me to learn so much outside of and has enriched my academic studies. The pastoral support here has been excellent, including people I felt comfortable to reach out to from other students, my tutor, to the wonderful night porter. I think coming to Chad's has helped develop my confidence and character, and I hope this continues in my future studies. Thank you!"
" I like how it is run by the students and how much of a big part they play in how the college functions. Also how all the years inter mix and are friends. And the bar."
"I  appreciate that Chad's is a college that supports social justice and outreach to the community. I think the leadership team do a great job of reaching out to local schools and offering bursaries to students. The commitment to social mobility is wonderful to see."
Chad's in a nutshell:  One of the oldest colleges in the University, St Chad's is spread out among superb historic locations in the heart of mediaeval Durham. We pride ourselves on maintaining the very highest academic standards, with students studying for everything under the sun in a relaxed, open, supportive atmosphere. We're small enough to make our claim to being a community more than mere rhetoric, but we're also large enough to be pretty diverse, and to give people plenty of scope simply to be themselves.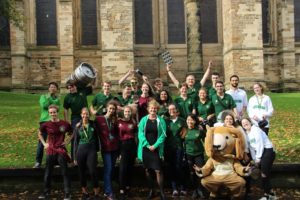 Location: The College is remarkably situated, occupying a dramatic site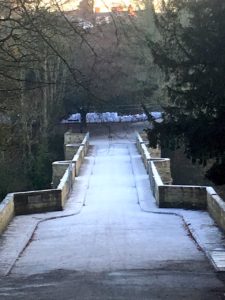 just fifty metres from Durham Cathedral – a World Heritage Site. Beyond the back gardens, the land falls away into the wooded gorge of the River Wear which winds round our high peninsula – once the citadel of the Prince Bishops and a symbol of Norman power.
Academic success: The College has excellent completion rates, and we have amongst the best library facilities and most extensive study spaces of any Durham college.  Each year, Chad's students achieve outstanding academic results: in 2019, 98.1% of our students graduated with a 1st or upper second class honours degree.  Our students go on to a hugely varied array of vocations and careers.
Diversity Chad's students come from all over the UK, from Europe and from all over the world. A majority of our UK students come from the state sector, and everyone who can make the grades is invited to apply.  We offer a range of scholarships and bursaries Scholarships, Bursaries & Prizes to support first generation students in particular.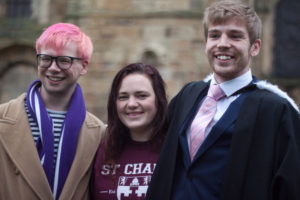 Size: Perfectly-sized (in our view) at just over 550 students, the College offers students the twin advantages of being part of a small, supportive, historic, inclusive community, while being fully part of one of the best universities in Britain.
International: The College is particularly committed to internationalism, co-sponsoring, for instance, the Ruth First Scholarship, which brings a postgraduate from Southern Africa to study for a year.
Fantastic Spirit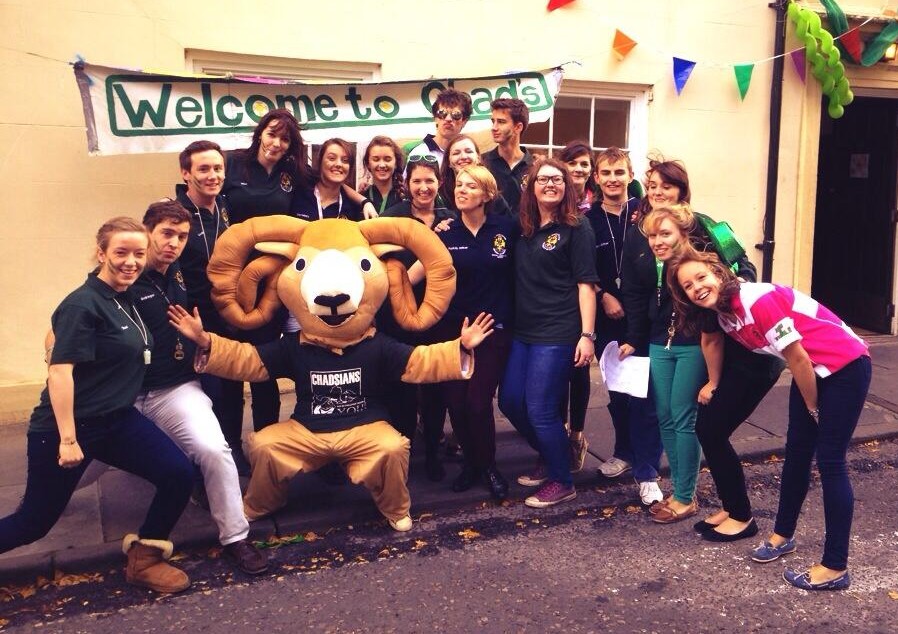 Community:  Every college says it's friendly and has great spirit, and that's no doubt true. But what makes Chad's just a bit different is not only  the College's relaxed atmosphere, but the way students and staff work together. At St Chad's, students share in the actual governance of the College, which is a self-governing institution recognised by the University. Because we share governance with students, there is little of the 'we-they' atmosphere you often find in large institutions, and there are countless opportunities to get involved and join, initiate, lead and help to run things.  Chad's is an enterprising and creative place, always encouraging people to "have a go".  We have an active college tutor team and a wonderful Senior Common Room and Alumni community who are keen to support our students. This is a real community for real adults – some young and some a bit older – who are keen to take personal responsibility and to make a difference, while still having the time of their lives.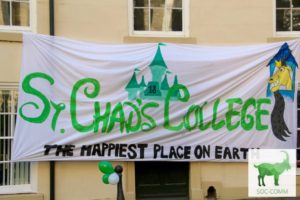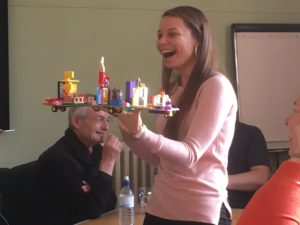 "Chad's is a small community that allows you to get to know everyone, regardless of age or common room. It is also an academic environment that allows you to reach your potential."

Alastair – Third Year Computer Scientist
Sport, Music, Drama, the Arts The College has strong rowing, football, mixed lacrosse, frisbee, hockey and rugby traditions for men and women, and the highest rate for participation in sport in the whole University. There is a well-equipped (characterful) gym in College, which supplements the University's facilities. The College not only supports sport, but also the arts, offering organ scholarships, poetry readings, music summer schools, and promoting just about everything else you can think of – from a jazz band to a first-rate college choir, headed by our professional Director of Music.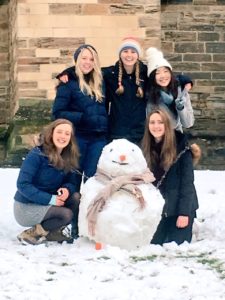 Mind, Body – and Soul  At Chad's, we take seriously the fact that we are whole human beings and aim to support and challenge each other in an integrated way –  body, mind and soul.  We have a long-cherished chapel with regular services, a fantastic choir and a friendly chaplain who you are as likely to bump into in the bar or dining room as the chapel. We welcome people of all faiths and beliefs and hope that Chad's will be a place where people can express, explore and question ultimate questions of meaning, belonging and identity and learn from each other in a relaxed and open atmosphere.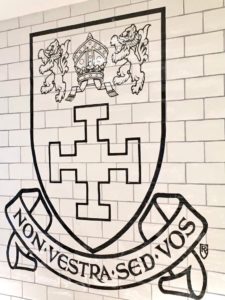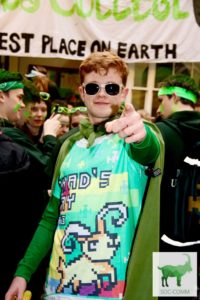 Our values  At Chad's, our motto is "non vestra sed vos" – not what you have but who you are, not yours but you.  We welcome people from all sorts of backgrounds and celebrate each person's (sometimes quirky) individuality.  At Chad's,  you will find space to be yourself, and be part of a community that is both supportive and out-ward looking .  We try to live out our commitment to social justice and inclusion in a variety of ways: including our work with local schools, our Internship Programme, our volunteering, and our support of fair trade.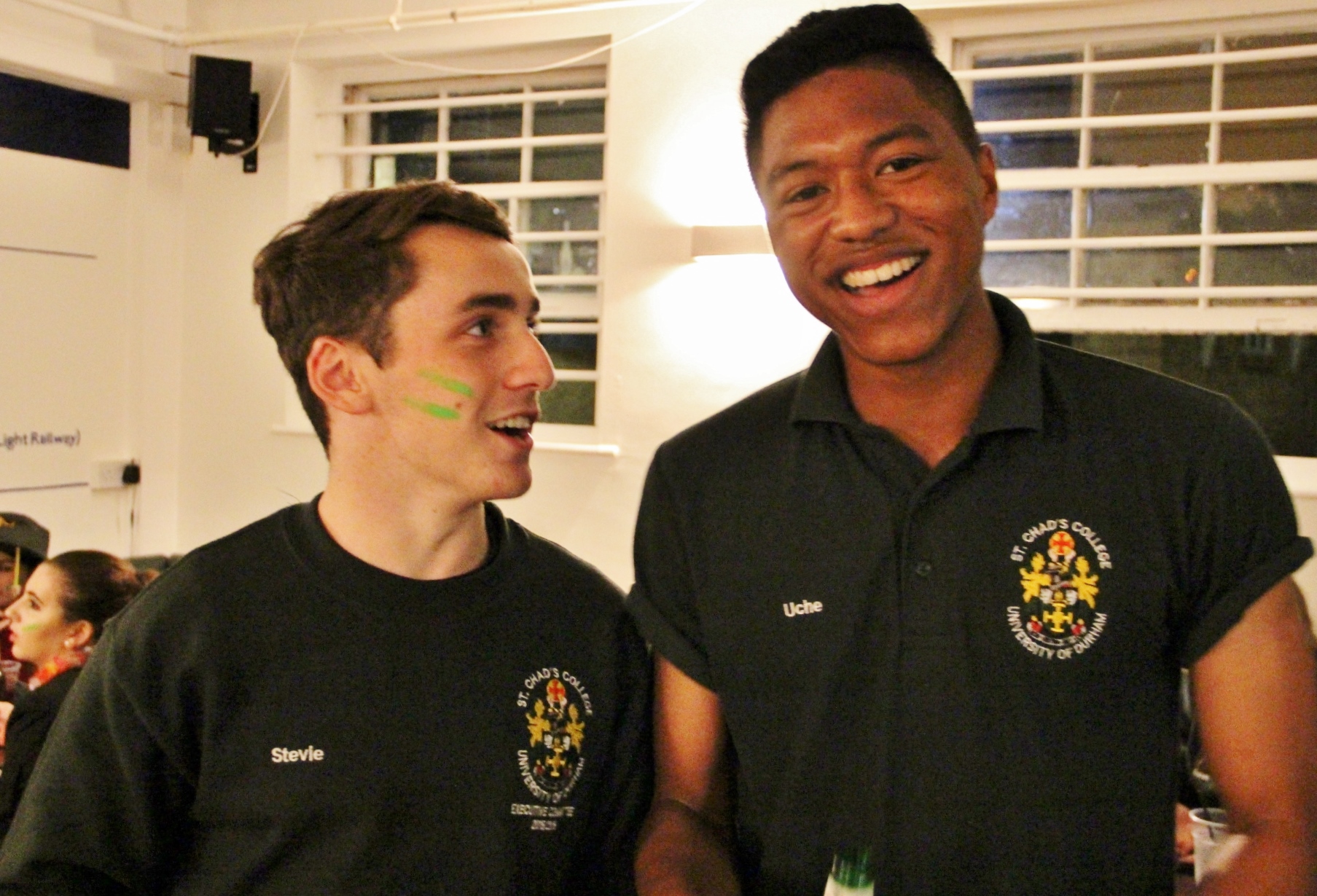 An exceptionally strong academic tradition…
"I would say the thing I love most about Chad's is how everyone gets involved with everything, from sport to drama and everything in-between. That is what helped me get settled into College life the best, as I made friends with loads of people in every year."

Will – Third Year Classicist

For information, please email 

chads.admissions@durham.ac.uk