St Chad's College owes its existence to the generosity of two people: Douglas Horsfall and Julia Warde-Aldam, who, in the early years of the 20th century, not only paid for our original buildings but also funded scholarships and bursaries for many St Chad's students in this period.
Dr Joe Cassidy, who was our Principal from 1997 until his death in 2015, was passionate about St Chad's being able to offer students the support – both pastoral and financial – they need to succeed. He believed that anyone with aptitude and promise should have the opportunity to become part of an academic community like St Chad's, whatever their background. This is our heritage.
Inspired by this spirit of generosity, St Chad's College is delighted to be able to offer a number of annual scholarships and bursaries for undergraduate and continuing postgraduates to encourage applications to Durham and St Chad's from students from less affluent economic backgrounds and under-represented communities, and to provide support, as required, to help our students who find themselves in financial need. These awards are funded through the generosity of St Chad's College alumni, fellows and friends.

St Chad's College awards
For prospective undergraduates applying to St Chad's for entry in October 2022
Music:
Chaplaincy:
Chaplaincy Assistant Scholarship – open to prospective undergraduate and post-graduate students who select St Chad's as their preferred College.  Please contact the College chaplain for more details chads.chaplain@durham.ac.uk
For postgraduates (who are continuing St Chad's undergraduates):
Elizabeth Griffiths Scholarship
For prospective postgraduates applying to St Chad's:
For current St Chad's students in financial need:
St Chad's Access to Learning Fund
For current students wishing to return to College accommodation in their third or final year
Senior Common Room Awards
Each year the SCR allocates a modest amount of money from its funds to support undergraduate and postgraduate members of St Chad's College through Personal Development Awards and Conference Presentation and Attendance Grants. These awards are worth up to £250. Current St Chad's students should contact the SCR Treasurer, Mark Roberts, for more information and application forms. In 2020 applications will be accepted throughout the year and assessed on a case by case basis.
What our scholarship recipients say…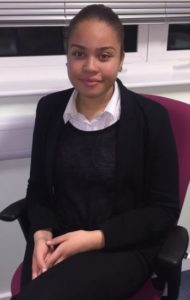 Leah Kadima Muntu (History), awarded the Shattock Family Scholarship 2017-2020
"As my undergraduate degree culminates in less than desired circumstances, I have had a lot of time to look back and think about my experience at Durham. And despite all of the highs and lows that come with regular university experiences, I am so glad for most.
I am so, so grateful for the opportunities afforded me. At Durham I have increasingly been involved with anti-racism and liberation, which has allowed me to become a member of the DPOCA (Durham People of Colour Association) Exec, through which we have consistently lobbied the University to make instrumental change to increase accessibility to underrepresented groups, specifically black home students."
---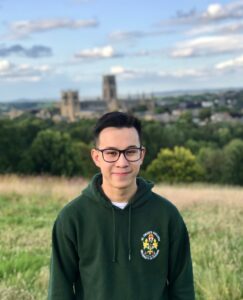 Chapman Hau (Chemistry), awarded the Dr Joe Cassidy Memorial Bursary 2017-current
"As I finish my third year exams, I reflect on the impact that the Cassidy Bursary has had on life at university. The award has meant that I have been able to focus on my degree without the burden of financial worries, as well as being able to fully immerse myself in College life. I have also been moved and inspired by the generosity of Chad's donors. I am therefore incredibly thankful to the donors who continue to make St Chad's a college that strives to support its students regardless of their background. More than ever, I am grateful to be part of the wonderful community of St Chad's."
---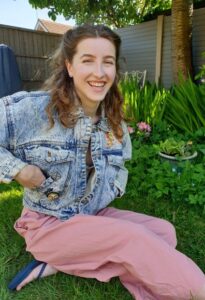 Jessica Lloyd (Biology), awarded the awarded the Shattock Family Scholarship 2018-2021
I greatly appreciate the continuing financial support that the Shattock Family Scholarship provides, removing concerns around any additional financial pressures I faced when starting uni, and might encounter in the future. In particular, it has helped to fund society memberships, such as for Durham University Aerial Arts Society, which I have enjoyed taking part in over the last two years – and for which I have recently been elected onto the executive committee. It has also enabled me to become a regular swimmer with the college's new swimming group and join Chads' climbing club. Last year, I balanced these alongside being on Chads' Social Committee; organising bops, formals, and the infamous Chad's Day.
I will be moving back into college accommodation in my third year. This is something that I am increasingly glad of, given the difficulties arising from the pandemic, which are likely to continue into the next academic year. The scholarship will enable me to better afford such accommodation and the wonderful experiences that go with this.
---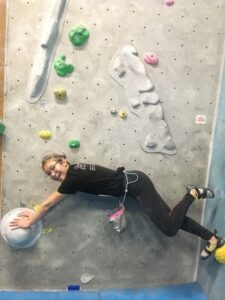 Maggie Lan (Biology), awarded the Dr Joe Cassidy Memorial Bursary 2018-2021
"The Joe Cassidy memorial award has helped me greatly during my second year studying biology at St Chads.  Although the year was cut short, I've enjoyed the change of scene living out of College with friends from Chads and cooking for myself. Highlights this year have included organising socials as social secretary of the Chad's Climbing Club, attending the Candlemas and Biology balls, and a chilly January trip to the Durham heritage coast. This year I have also volunteered with Sexpression to teach sex education at a local secondary school, and completed a mental health first aid training course. I am extremely thankful for the Cassidy award as its generosity has helped fund these activities and my living costs in my second year."
---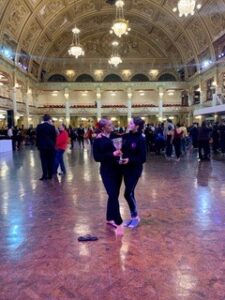 Georgiana Cuthbertson-Beet, awarded the Dr Joe Cassidy Memorial Bursary 2019-2021
(on the right in this photo)
At the start of the year I decided to pick up a few new sports. The first being college football for St Chad's. We have had a truly great year – making the quarter finals in the Floodlit Tournament. This was a great achievement for us as we were a new team and had only just started training together. With the kind scholarship money, I was able to fit in with the team by purchasing a football shirt with my name on the back, second-hand football boots, and second-hand shin pads.
The second sport I picked up was Dancesport at University level. This saw me competing in many, many competitions throughout the academic year. I am no stranger to dancing since I have competitively danced ballet, tap, and modern (plus many more styles) since the age of two. However, ballroom and Latin dance styles were completely new to me. I have made so, so many wonderful new dance friends through joining this society. Furthermore, I am proud to report back my dance partner and I placed in every single competition we attended. We also won the trophy for overall best couple in not only the Northern competition but, the trophy for overall best couple in Nationals too! This was a really big deal for us and a super proud moment for me this year. All of this would not have been possible for me without the scholarship – I really appreciate the opportunity I have to do these wonderful things because of it.
---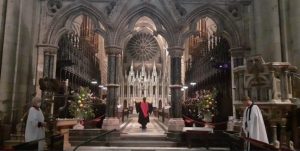 Patryk Korczak (Mathematics), awarded the Shattock Family Scholarship 2019-current
As a first year maths student at St Chad's, I could not imagine a more supportive place to be – from the community of students to the staff, the Senior Tutor and Principal – and not just the sense of integration, but also the atmosphere encouraging us to reach our potential by removing barriers, inside a lively, bustling bubble.  This means more to me than anything else.
Attaining the scholarship meant that I did not have to keep on my job during term time so that I can focus completely on opportunities at university. Beyond the amazing academic staff and learning from leading professionals in my area, I have been privileged to use my scholarship towards funding music tuition from world-class performers and educators situated in Durham. I currently hold two organ scholarship roles in neighbouring colleges, and my improvement is far more valuable to me thanks to the help that has been made available. I have finally been able to spread my wings at St Chads, have fun and concentrate on my studies!
---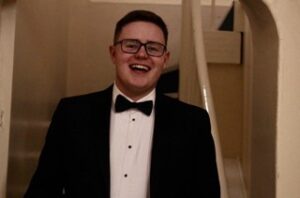 Toby Dunne (Theology), awarded the Dr Joe Cassidy Memorial Bursary 2019-current
This scholarship has been invaluable to me; a financial help for payments such as College accommodation costs, and helping to pay the deposit for a living out house for next academic year. In addition to this, the Cassidy scholarship has helped me buy academic resources I have used throughout my course in this first academic year in Durham.
The Cassidy Scholarship has enabled me to live in St Chad's for my first year of study at Durham rather that at home, something that has given me fantastic opportunities for development as a student, but also as an individual. The opportunity to represent St Chad's football teams has developed skills for the long term, such as teamwork, and leadership – I'm hoping to be St Chad's Men's Football B Team captain next year. The scholarship has also enabled me to become more independent from my family which has been good for me. I've helped out, prior to the Covid-19 crisis, at applicant open days as well as experiencing all that College has to offer, such as the Candlemas Ball.