At the Bailey end of Moulsdale Hall hang three paintings by Kirill Sokolov, a celebrated Russian painter and one of the Soviet Bloc's greatest modern artists. They explore the theme of hospitality and inclusion – values that are foundational for St Chad's – as interpreted through Rublev's famous icon of the Trinity.
St Chad's relationship with Sokolov began when one of our undergraduate students reached out to Avril Sokolov, the artist's widow, curious to know more about all the art he could see through the windows of a house on Claypath which he passed each day. This friendship led to two exhibitions in St Chad's which in turn led to the purchase, loan and gift of a number of Sokolov paintings which now hang in St Chad's College. As the relationship between St Chad's and Avril Sokolov (Pyman) grew, Avril – a distinguished scholar of Russian Literature – accepted an honorary fellowship of St Chad's.
The genesis of the three paintings hanging behind high table in the College Dining Room is included in this delightful piece, Summers in the Country, by Avril Sokolov. The central painting is of a group of friends – one lucky enough to own two cows – who gathered each day to share milk together. Sokolov referred to his painting as "The Three Marias" (although it also included the husband of one of them.) It is an image of hospitality that recalled for Sokolov Andrei Rublev's famous icon of the Trinity – also known as The Hospitality of Abraham (Trinity – Andrei Rublev). Two of Sokolov's own Trinities, interpretations of Rublev's icon and inspired by the three Marias, hang on either side of high table.
Sokolov's image of the friends who shared what they had and his interpretations of Rublev's Trinity both point to the kind of hospitality that is one of the founding values of St Chad's. The College began its life as an initiative to give men from low-income backgrounds the opportunity to fulfil their calling to the Anglican priesthood. Given the education requirements of the time, the limited opportunities available and the associated costs, this would otherwise have been impossible. It was thanks to the vision of the local vicar and the generosity of the local Lady of the Manor, Julia Warde Aldam, that St Chad's Hostel was first established in Hooten Pagnell in 1902. Its success led to the establishment of St Chad's Hall in Durham in 1904.
St Chad's College today is committed to exercising hospitality in a range of ways. We aim to be an inclusive community of learning that welcomes a diverse range of students as members. In particular, we try to ensure, through a range of scholarships and bursaries, that students from lower income backgrounds are able to attend and make the most of the student experience here at St Chad's.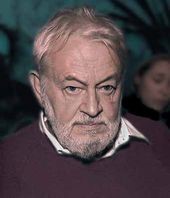 Kirill Sokolov (Кирилл Соколов) (1930 - 2004)
Kirill Sokolov (Кирилл Соколов) (1930 - 2004) was a celebrated Russian painter and one of the former Soviet Bloc's greatest modern artists.
Throughout his career, Kirill Sokolov's work and art enjoyed a wide range of media and art forms, from books illustrations and silk-screen printing to oil painting, silkscreen, collage and sculpture.
Between 1950 and 1957 Sokolov studied at the prestigious Surikov Institute in Moscow. Amongst his classmates was the conceptual artist Ilya Kabakov. In 1960 Sokolov met his future wife, Avril Pyman, a British research student and biographer of Alexander Blok. The couple married in Moscow in 1963, one of the first foreign marriages allowed in post-Stalinist Russia and which had to be personally approved by Krushchev. For the next ten years Sokolov gained distinction as a highly original engraver and illustrator of some fifty books, including the works of Mikhail Bulgakov and Yuri Trifonov.
In 1974 Sokolov emigrated to the United Kingdom with his family, from where he went on to establish an international reputation. Eventually settling in Durham, Sokolov served as co-editor of the international art journal Leonardo as well as becoming a member of the Society of Fine Art Graphic Artists.
During his career, Sokolov developed his own method of printmaking which he called 'silkscreen collage', the results of which include a tribute to George Orwell, London 1984, and have been exhibited widely.
Sokolov's work has been exhibited widely, including a major retrospective at the University of Durham in 2006.
From The Sutton Gallery Website, Kirill Sokolov.