There is a serious and sustained threat from both international and Irish-related terrorism to the UK and UK interests overseas.
Members of the public should always remain alert to the danger of terrorism and report any suspicious activity to the police on 999 or the anti-terrorist hotline: 0800 789 321. If your information does not relate to an imminent threat, you can also contact MI5.
You can check the current threat levels:
The most significant terrorist threat comes from international terrorism. As a number of recent European attacks have showed, attacks may be mounted without warning.
Northern Ireland-related terrorism continues to pose a threat. Dissident republican terrorist groups (such as the Real IRA and the Continuity IRA) have rejected the 1998 Good Friday Agreement. They still aspire to mount attacks within the UK mainland and have conducted attacks within Northern Ireland.
It pays to be prepared… So:
Watch this four minute film
Know what to do and prepare yourself with citizenAID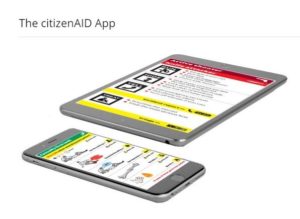 Simply download the free, no adds citizenAID App from either Google Play, Apple App Store, or the Windows store.
The citizenAID App will reduce the anxiety from difficult decision making in an unfamiliar situation. Follow the logical steps to do the right things in the right order. Stay safe and help us… to help you… to save lives.
Read Government information HERE
includes guidance for dealing with suspicious items and bomb threats

Be alert in crowded places
including Durham during the Lumiere Festival. There will be security staff on duty and an increased police presence. Some roads will be closed. Report anything suspicious.