Levelling Up the UK Economy: the need for transformative change, published by Palgrave.
Jonathan Wistow, Fellow of Policy&Practice and Luke Telford (University of York) have just published this new book on the 'levelling-up' policy debate. The official launch at the University of York is on December 14th.
The authors critically assess current policy initiatives about levelling up the UK economy by pulling together a wide range of evidence to provide insights about the agenda from macro, meso and micro levels of analyses. This includes qualitative data from a focused study with directors of regeneration across several 'left behind' local authorities and 25 residents of Redcar & Cleveland in Teesside.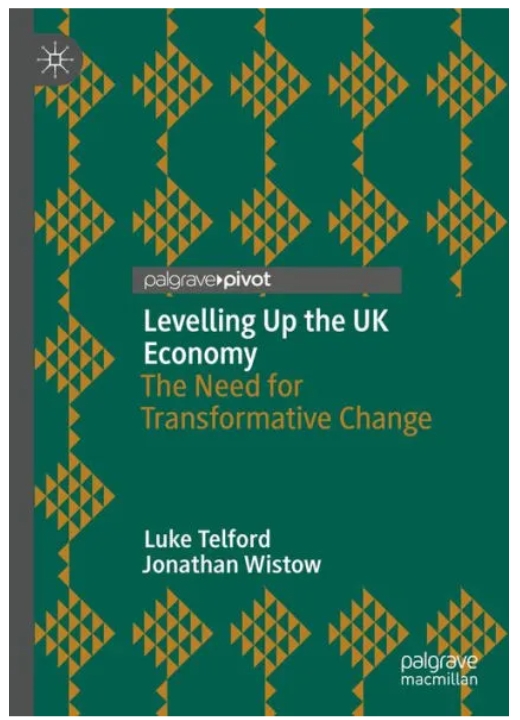 The book frames the debate against a backdrop of historical analysis and looks at the shift from post-war capitalism to a post-industrial and neoliberal society which has exacerbated spatial inequalities. Using empirical evidence from Redcar & Cleveland, the authors show how social and economic policy has exposed deindustrialising areas to insecure employment, crime and anti-social behaviour. And also has produced resentments about political voice and representation.
The book has received a very positive critical reception from highly respected academics working in this field:
"This excellent book provides a powerful, critical examination of Levelling Up, and grounds its assessment within a much-needed political economy perspective. It traces the 'left behind places' problem to the nature and evolution of UK capitalism itself. Further, it goes beyond the usual aggregate statistical metrics used to measure and discuss the scale of the 'left behind places' problem, to delve into the lived experiences of those living in those places. By means of this political economy and qualitative approach, the authors rightly conclude that the UK Government's Levelling Up programme is unlikely to deliver on its promises to transform economic fortunes and social conditions in 'left behind places', and may not even prevent geographical inequalities from widening still further. This stimulating book is essential reading for all academic scholars and policymakers concerned with the UK's 'left behind places problem'." (Professor Ron Martin, Emeritus Professor of Economic Geography, University of Cambridge, UK.)
"Academics and policymakers alike need to read The UK Government's Levelling Up Agenda by Luke Telford and Jonathan Wistow. This book is the most comprehensive qualitative study available on the 'Levelling Up' chapter in the policy history of local and regional economic development. Theoretically informed, interdisciplinary, and rich in policy nuances and political insight, the authors walk us through the rise and fall of this policy narrative. Rather than just leave things there, the authors conclude by offering an ambitious alternative path for our 'left behind places'. This is social policy at its very best." (Martin Jones, Vice Chancellor and Professor of Human Geography, Staffordshire University, UK)
"This is one of the most significant efforts to analyse the UK government's Levelling Up programme. Not only does it brilliantly chronicle the moral, social and economic reasons for addressing geographical inequality, but it further details the transformative changes necessary to overcome the significant barriers that people in 'left behind' locales face in terms of gaining access to well-paid, secure employment. Recognising that spatial disparities in the UK are deeply entrenched and long-running, Telford and Wistow argue for a 'phase shift' in political economy that goes beyond the 'sticking plaster' approach to the present, which they suggest is unlikely to spread opportunity, revive communities and restore local pride. This book is likely to garner much interest from those interested in trajectories of inequality and the implications for place, people and government policy." (Professor Julie MacLeavy, Professor of Economic Geography, University of Bristol, UK)
If you want to get a copy of the book, click here.