Third Sector Trends 2022 first report: structure, purpose, energy and impact of the voluntary, community and social enterprise sector in England and Wales.
Third Sector Trends has been running since 2008. The study has been surveying the sector every three years since 2010 and as such is the largest survey of the voluntary, community and social enterprise sector in England and Wales.
In 2022, 6,071 responses were received across England and Wales (an average of ~600 responses in each region). Designed to complement NCVOs UK Civil Society Almanac, it is the only fully representative longitudinal survey which can produce robust and detailed comparative analysis at a regional and national level.
This is the first of five reports from Third Sector Trends 2022.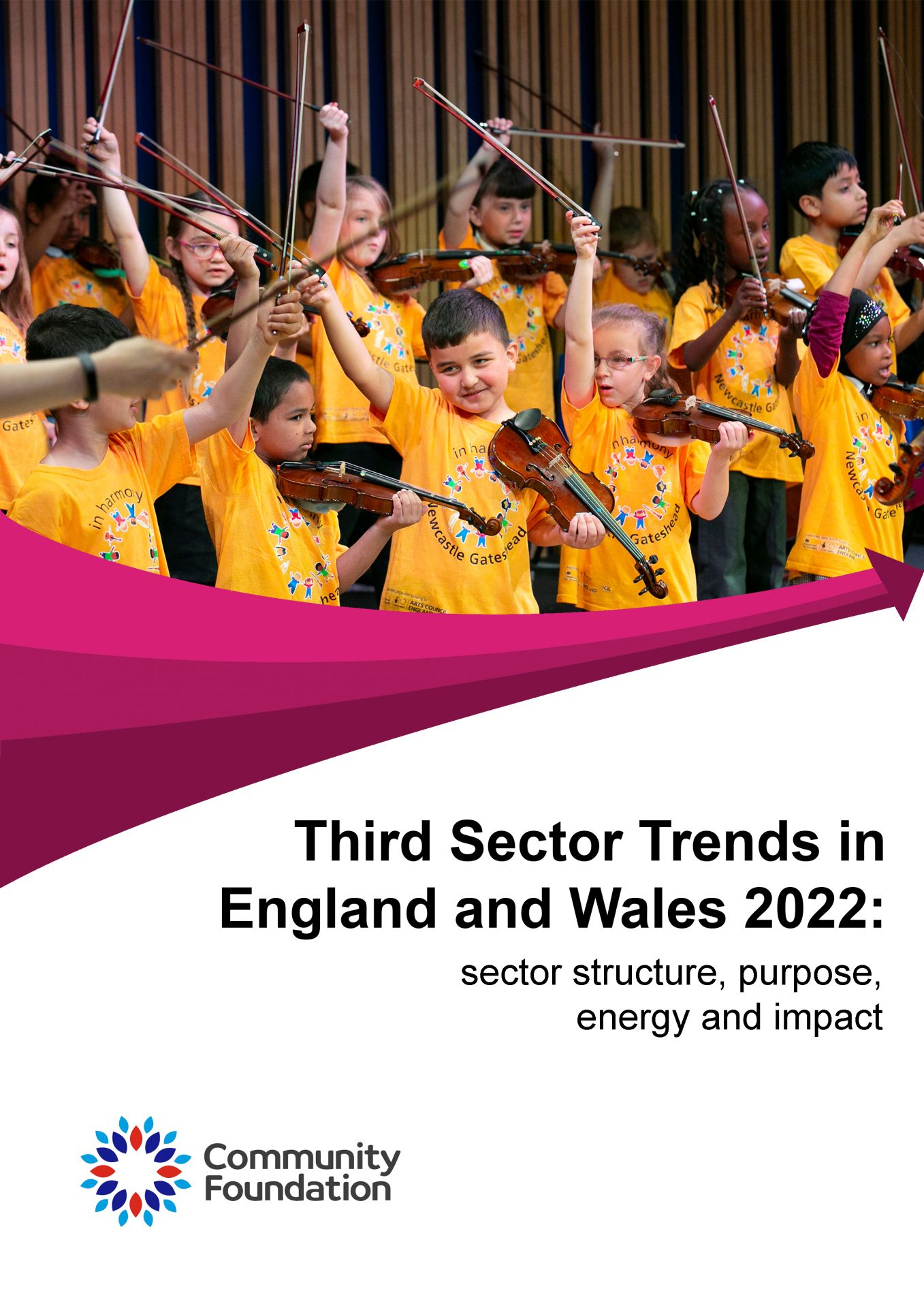 Key findings:
There are about 200,000 registered voluntary and community organisations and social enterprises in England and Wales (including registered charities, cooperatives, community benefit societies, community interest companies, community amateur sport clubs and other non-profit making registered societies and businesses).
Micro and small organisations (with income below £50,000) constitute 63 per cent of all registered organisations but only receive 0.6 per cent of sector income. The biggest organisations (income £1million to £25million) receive 72 per cent of sector income but comprise just 5 per cent of organisations in the sector.
The sector employs about 1.1 million people, or 3 per cent of national employment. Employees provide about 80 per cent of sector energy while regular volunteers deliver about 20 per cent of sector energy.
There are major disparities in sector distribution regionally. For example in South West England, there are 4.2 organisations per 1,000 population compared with 2.7 in North East England. In the most affluent areas the proportion of small and micro organisations is much higher than in the poorest areas.
There are about 4.3 million regular volunteers working for VCSE organisations who deliver 312 million hours of work annually. If this work had to be paid for, it would equal £2.9bn (if valued at the level of the national living wage) or £4.9bn if valued at 80 per cent of average wages).
The purpose and impact of the sector is hard to pin down because boundaries between different beneficiaries are blurred. Using broader clusters of activity, the report shows that:

30 per cent of organisations say that they have a strong impact on improving personal health (including disabilities, physical and mental health), 33 per cent on social wellbeing (e.g. tackling social isolation).

34 per cent of organisations say that they have a strong impact on community wellbeing, but only 20 per cent of organisations have a strong impact on financial security (such as poverty, homelessness and unemployment).
Many organisations cover more than one area of impact. For example, 22 per cent cover both personal health and social wellbeing. 8 per cent of organisations say they have an impact in all four areas of activity.
The financial value of some sector activity can be measured – but much of the value of the sector's work is 'intangible'. But it is possible to give values to both types of impact. The value of the 'energy' the sector injects into society equals about £54 billion each year (that is the value of the time people put in to make things happen) – but the value added equals £191 billion or 3.2 times the injected energy.
Reflecting on the figures, Rob Williamson Chief Executive of the Community Foundation said:
"This first report clearly shows the importance of the voluntary, community and social enterprise sector in terms of size and employment in England and Wales. We already know the sector is the glue that holds society together by providing help and support to many in need but at a basic level it employs and pays tens of thousands of people and puts millions into local economies. Without it we would be poorer in so many ways."
"The vital role the sector plays is why we at the Community Foundation have set up a cost-of-living fund to support organisations which may be struggling with the double whammy of increasing demand and increasing costs."
Sarah Glendinning, Regional Director of the CBI said:
"Where both the private and voluntary sectors come together, both sides stand to benefit in spades. This report shows the huge value of the voluntary sector to the North East and the vital role it plays at the heart of local communities. Ultimately the deeper and more committed the partnership between businesses and the social sector, the greater the benefits for the region."
Rhiannon Bearne, Director of Policy and Representation, North East England Chamber of Commerce said:
"Once again this important study shows how and why economic and social impact go hand-in-hand. In the North East charities don't just offer vital services and support for our communities: they contribute a massive £1.6bn in value, creating good jobs and helping create a strong economy. With a difficult winter ahead of us all the Community Foundation Tyne & Wear and Northumberland's new cost of living fund will make a real difference to this vital part of our region's economy."
The report's author, Professor Tony Chapman, St Chad's College, Durham University said:
"Where the added value generated by the voluntary sector 'lands' is hard to predict. This is because the impact of charities' work isn't always immediate. A real strength of the sector is its ability to accumulate energy and value which is produced collectively by many charities.
Keeping things ticking over in civil society often nips problems in the bud before they become critical needs. Without that support, individual needs are undermined and the strength of community ties can fray. And in times of local or national crisis, such as in the Coronavirus pandemic or the current cost-of-living challenge, the latent power of the sector can be released to tackle problems quickly and vigorously."
The report can be downloaded here:
The report does not include a detailed description of the research methodology. If you'd like to read in more detail on the methods used, please see this report (where there are further links to a report on analytical techniques).
We ask people who took part in the study to tell us how things are going once they've seen the report: Here are some responses (anonymised where necessary with [square brackets])."I wonder if there is space to talk about how people running and working in the third sector often do so for several entities? I think for the financial impact element, this should be taken into account, as in terms of value this is often missing, The reliance on people who by nature, want to make a difference, and therefore end up doing several roles across organisations. This often is missed in studies."
"Our organisation would fall into the category of semi-formal, medium sized TSO, as described in section 2.3 of the trends report. The principle challenge we have, is that we have historically relied on the leadership of a single dedicated individual to push the organisation forward. We are now in a position where the current leader is departing, and there is no replacement...
Recruitment has been largely unstatisfactory and unsuccessful because: a) The recruitment process can't measure traits like long-term dedication and motivation. b) The previous leaders were intrinsically motivated—the pay wasn't as big a concern. The "great resignation" phenomena has meant that less people are willing to go above and beyond and—rightfully—demand more for their work. In practice, this has meant the pool of applicants is much smaller/not there...
On top of this, several key non-management staff have left and cannot be recruited until our leadership position has been filled. As with the above, we have relied on the intrinsic motivation of long-term staff rather than employment benefits and pay. With our current budgets, we simply cannot match other organisations, so recruiting has been a serious obstacle for us. We have seriously questioned whether our organisation is viable in this new world. It will be such a shame to close because we are a specialised charity supporting people with learning disabilities, and one of the last truly local organisations in our area."
"Our marine conservation charity has already engaged with more beneficiaries (almost 20K in 10 months) than ever before despite doing a lot less-organised face-to-face events. We are working smarter online which is essential if we are to achieve net zero targets set by government. Online activities make us more productive and efficient. As a result we are able to deliver more nationally and internationally."
"Awaiting gas and electric bills. Water has already increased ."
"[Our] prime services are advocacy, entitlements and accessible travel and a walk in centre with peer support and volunteering. We recognise that in addition to this the societal attitudes and unconscious bias regarding disablement underpins many aspects of the lives of people with disabilities. We have had increasing difficulties funding our services that span a range of situations regarding disablement including carers. We operate a mix of referrals, self-referrals, word of mouth contacts and an outreach programme of regular connection with disability specific groups…
We have had extreme difficulty funding our services. One of the major factors post lockdown has been the impact from major and regional charities that serve specific disabilities. They all lost income in lockdown, through a mix of charity shops not being open, other fundraising mechanisms being paused and some shift of public donations towards endemic related causes and appeals. Their financial models seem to be that significant elements of their workforce were funded by this income generation…
"This has had a number of impacts, firstly much of that workforce was not core functions but rather outreach and support elements relative to their specific disability. They were the first part of the workforce to go and this has had an impact on end users. The larger charities 'circled their wagons' in order to survive. Post lockdown they are now looking to return to their previous structure.
This has led them to start of looking for funds from sources such as foundations and lotteries. This has created a number of imbalances for our charity. The larger disability specific charities have both marketing departments (which are specific and trying to boost support for specific disabilities) and can afford to employ the strategists, bid writers, researchers and fund managers to enter the competitive world of fund applications. Most of these charities deal with the specific disability and not the societal issues that span most disabilities. These charities, which operate as any business, are now busy competing with each other and smaller charities and there is a distinct imbalance of equitable access."