St Chad's College offers a scholarship for a student to carry out the duty of Musical Director for the College Choir.
We warmly welcome applications for 2022/23 from current matriculated students of St Chad's College.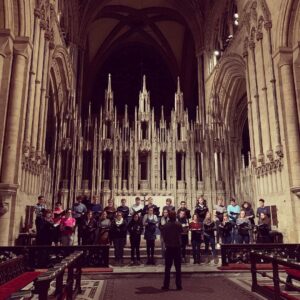 St Chad's College Choir represents a wide cross-section of the College, welcoming undergraduates, postgraduates and members of staff alike. The Choir consists of approximately 20 singers, most of whom are informally auditioned though some previous experience of singing in a choir is desirable. We also welcome students from other Colleges within the University.
Further details about the College Choir can be found here
If you are considering applying for this for the academic year 2022/23, the role description found via the link below may offer you some guidance.
St Chad's College Choir Musical Director Role Description June 2022
ELIGIBILITY
Level of Study: Undergraduate & Postgraduate
Domicile: Worldwide
College: Applicants must be studying and resident at the University of Durham for the whole of the academic year and are required to fulfil the responsibilities associated to the position of Student Musical Director as outlined on the role description available via the college website.
Mode of Study: Full-time or Part-time
Programmes: All programmes
DETAIL
Value: £3000
Duration: I year (renewal by agreement from the College Principal and Chaplain)
HOW TO APPLY
The role may be advertised during the academic year although the College reserves the right to appoint a suitable candidate without a public advertisement.
Scholarship application deadline: Sunday 19 June 2022 
Audition: Date to be confirmed
SELECTION PROCESS
All eligible applications for the Musical Director Scholarship will be considered on the basis of their personal statement and CV.
Candidates will be required to conduct a short choir rehearsal during the audition day.  This will include a warm up, Psalm and an Anthem, both of which will be sent out to short-listed candidates.  There will also be a short interview with the College Chaplain.
CONTACT
For advice or an informal conversation, please contact the College Chaplain.
Applications should be sent to: The Revd David Rushton, College Chaplain
Email: chads.chaplain@durham.ac.uk
Phone: +44 (0)191 334 3352