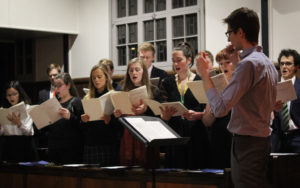 You are warmly invited to apply for 2023/24 entry scholarships.  
St Chad's College Choir represents a wide cross-section of the College, welcoming undergraduates, postgraduates and members of staff alike. The Choir consists of up to 24 singers, most of whom are very informally auditioned though some previous experience of singing in a choir is desirable.
The Choir's primary function is to sing at College Chapel Services during term time.  (Currently, Sunday Eucharist or Compline, midweek Choral Evensong, and Choral Eucharist or Evensong for Festivals and special College days). The choir sings a wide range of music, with settings by Byrd and Palestrina through to Stanford and Howells as well as singing new compositions and arrangements.
In addition, the Choir is privileged to sing in Durham Cathedral, usually once or twice each term. The College's annual Advent Procession in the Cathedral is undoubtedly a highlight in this respect; the annual celebration of St Chad's Day is another.
The College values its Choir and choral tradition highly and provides it with many opportunities to play a full and central part in the cultural life of the College. This includes regular concerts and recitals in the chapel and beyond. CD recordings have been released from time to time to mark the ever evolving membership and continuing success and development. The Choir has undertaken tours both internationally and within the UK.
Up to 16 Choral Scholarships and 2 Organ Scholarships are available each year; some of which will be awarded to existing students. Prospective students are strongly encouraged to apply for a Scholarship alongside their UCAS application to Durham.  More information is shown below. Scholars are selected by application and candidates will be invited for a formal audition, normally held during post-offer visit days or by special arrangement.  These scholarships are funded through gifts from St Chad's alumni and friends.
 ELIGIBILITY
Level of Study: Undergraduate & Postgraduate
Domicile: Worldwide
College: Applicants must specify St Chad's College as their first choice of College on their UCAS application for Durham.
Mode of Study: Full-time or Part-time
Programmes: All programmes
DETAIL
Value: £500 (choral), £1000 (organ)
Duration: I year
Number: Up to 16 Choral Scholars and 2 Organ Scholars
Payment:  Paid in three equal payments, at the end of each academic term
FURTHER DETAILS
Successful recipients will receive £500/£1,000 plus a programme of singing/organ lessons to be agreed with the Director of Music.  We also aim to offer some musical workshops during the year, some of which are in collaboration with Music Durham. Funding can be used as either maintenance support or payment towards tuition fees. This is a grant, not a loan and does not need to be repaid. Choral and Organ Scholars are required to be core members of the College Choir and as such must commit to sing/play at all services, concerts and rehearsals. In special personal or academic circumstances Scholars can be given leave by the Director of Music.
Choral scholarships will not all be awarded simply on the basis of musical excellence – the College is keen to encourage singers with musical potential who may not have had the opportunity to receive significant formal musical training. Individual committment to the life of the choir is an important factor in developing musical excellence,  alongside the all important social life that comes with membership of a choir.
Organ scholarships will be awarded on the basis of musical ability. Scholars would normally be expected to have achieved ABRSM Grade 7 Organ or equivalent. Experience of accompanying services is desirable.
The College is happy to receive applications from all interested potential students regardless of their family background, level of study, nationality or schooling. It is possible to hold a choral/organ scholarship alongside other College scholarships/bursaries and there may be additional funds available in cases of genuine financial hardship.  Due to the committment required, the College reserves the right not to award Choral or Organ scholarships to those who may hold similar scholarships within other College choirs.
Please contact David Rushton, the College chaplain if you would like to ask any questions before making your application. chads.chaplain@durham.ac.uk
Further Information
All Choral and Organ scholars are re-auditioned each year. Applicants must apply and re-audition for a scholarship in subsequent years of their course of study at the University.
HOW TO APPLY
Applicants must:
Stage 1: have submitted an academic application to Durham University via UCAS specifying St Chad's College as their first choice.
Stage 2: submit an application by email to the College chaplain, The Revd David Rushton: chads.chaplain@durham.ac.uk ; including a signed reference (a pdf or scan is acceptable) from your teacher or choir director (or other appropriate person), and a personal statement (please include your UCAS personal ID number) of not more than 1,000 words outlining:
how your personal musical experience makes you eligible for this award
how the scholarship would help you to study at Durham University
why you want to study at Durham University and St Chad's College
Scholarship applications for 2023/24 accepted from:  October 1st 2022
Scholarship application Deadline: 25th January 2023
Audition dates: Most auditions now take place in Durham during induction (Freshers') week. 
When candidates will hear the outcome of their application for 2023/24: To be confirmed
SELECTION PROCESS
All eligible applications for Choral and Organ Scholarships will be considered on the basis of their personal statement, references and academic status by a panel of senior staff St Chad's College.
St Chad's College may use Acorn data to prioritise applicants from areas currently under represented in the undergraduate population.
Candidates who are allocated to St Chad's College and fulfill the requirements of their offer from the University will be auditioned as early as possible during Induction week.
CONTACT
For further information or advice:
Email: chads.admissions@durham.ac.uk
Phone: +44 (0)191 334 3357